Despite his status as a public figure in Grand Rapids' food and beverage scene, my tito, (Tagalog for "uncle") George Aquino, did not expect to enter a career in hospitality.
Believe it or not, he received his undergraduate degree in writing at the University of Iowa. Out of a need for cash, he applied to be a server at a fine dining restaurant called Le Ciel Bleu at the Mayfair Regent Hotel in Chicago.
"To my disappointment, they told me I wasn't qualified because I don't have fine dining experience or enough knowledge of French cuisine," he said. "They offered me a job as a busboy. All my friends from Manila (Philippines) were getting top jobs, working at the stock market or attending graduate school — and I was wearing a tuxedo that made me look like a penguin while curling butter and polishing glasses. The challenge really drove me to excel."
Within three months, he went from busboy to server. Nine months later, he was running the restaurant as maître d'. Within five years after the initial busboy position, he became director of food and beverage for the entire hotel. Today, he is vice president and managing director of AHC Hospitality based in Grand Rapids, overseeing development and both domestic and international property relations. He was even informally knighted by Mayor Rosalynn Bliss as the "Night Mayor" of Grand Rapids due to his influence in growing the city's night scene.
Following his footsteps
Growing up in the Philippines, I would only see Tito George once a year at best. He emigrated to the United States in 1980, over a decade before I was born. He always made time to see me and my family each time he visited Manila because he was an old friend of my parents as well as my godfather. Although I was fond of him and considered him "my cool uncle," next to my more traditional parents, I never in my wildest dreams thought I'd move to Grand Rapids without ever having seen or heard of the city before.
I was born in Illinois while my dad was getting his MBA at Northwestern University. Tito George was present at my baptism as my godfather. My parents and infant me moved back to Manila as soon as my father graduated. With the privilege of a blue passport in my back pocket, emigrating back to the U.S. was always an option that lingered in the back of my mind. After graduating from college and feeling unfulfilled in Manila, I mentioned to Tito George on the phone one day that I wanted to move, asking for advice about emigrating to a more "obvious" city like New York, San Francisco, Seattle or Portland. That's when he pitched Grand Rapids to me.
"Grand Rapids? What state is that in again? Michigan is in the Midwest, right?" He convinced me it was a good idea, that he would help me settle into my new life. I figured, "Why not?" I could stay in Grand Rapids for a year and move to a bigger and better city after I gained some experience. Five years later, I'm still in West Michigan, now married with two dogs. I recently bought my first house and work for an organization that specifically aims to grow and develop downtown Grand Rapids.
My Filipino Bourdain
When I first moved, I had no idea Tito George was basically a local celebrity. I was very confused when the owners of restaurants would bring framed reviews he wrote for MLive to our table, thanking him profusely and giving us the best service I'd ever had.
On my first full day after landing, we drove to Saugatuck and had martinis and fried chicken at Phil's Bar & Grille. One of the owners recognized him and practically went into tears thanking him for the review he wrote about them years back.
"I write honestly. If I didn't like something, I would say it and give real feedback. Back then, reviews were only positive," he told me. "I'm surrounded by the top chefs in the city every day for work. I travel a lot and eat out more than anyone else. I think that gave me credibility in the eyes of locals."
Through his years writing for MLive, Tito George made a conscious effort to highlight restaurants that were not previously recognized by local mainstream media — specifically "ethnic" or "exotic" joints outside the highly visible downtown or the franchise-filled 28th Street.
"Not too long ago, you would never see white people at Pho Soc Trang, Taqueria San Jose or Seoul Market Cafe," Tito George said. "Today, that's not the case. I'd like to think I contributed to that in a small way. If a critic at the largest newspaper in town writes a good review, people take it seriously, even if it's for a restaurant that was previously in their peripheral vision."
Before Tito George, I had never seen a buttoned-up white male executive suck up to a middle-aged Southeast Asian man wearing a tracksuit. For that reason and many others, Tito George is my idol.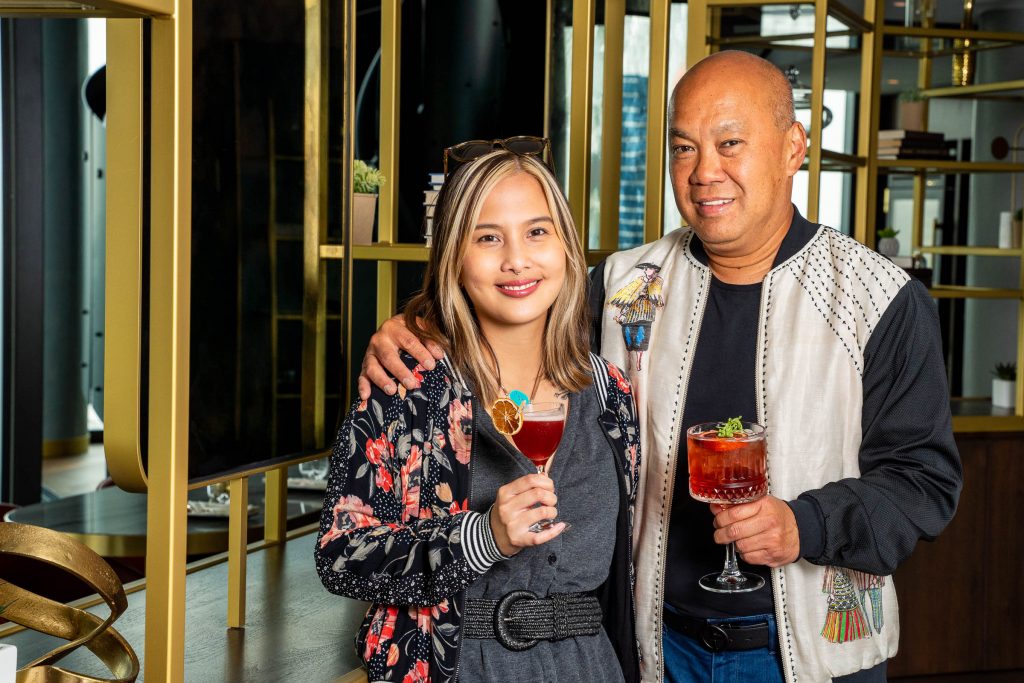 Filipino hospitality at its finest
I won't lie, when Tito George first took me out for dinner and drinks when I moved, I wanted to cry. I wasn't expecting Grand Rapids to have so few people out and about after 9 p.m. on a Friday — with even fewer nonwhite folks in sight compared to other U.S. cities I've visited in the past.
Looking back, I wish I could assure my younger self that I was right to trust Tito George. When I first moved, he housed me rent-free. He co-signed the lease at my first studio apartment because I didn't have steady income or any credit history. He helped me get my state ID and open a bank account. Last year, he even planned and officiated my wedding. He also may have spoon-fed me dinner and bottle-fed me water after a night of heavy drinking.
All my life, I've never experienced such humility and hospitality from a person that is also so respected in a community. While Filipino hospitality is famous for being warm and welcoming to outsiders, Tito George practices it to the highest degree and adds his own special flair to it that is clearly infectious even outside our motherland.
From facilitating the creation of MDRD's smoked salmon with bread and truffle oil appetizer that explodes in your mouth (inspired by a dish from a restaurant called "Tomatito" in Manila) to writing a glowing review for an underappreciated restaurant and, of course, guiding a young adult through grownup life in a new country, Tito George's hospitality is absolutely inspiring, and I hope to make him proud one day by showing that same hospitality to the people in my life.
This story can be found in the September/October 2021 issue of Grand Rapids Magazine. To get more stories like this delivered to your mailbox, subscribe here. 
Facebook Comments