While it's not the first restaurant to offer poke bowls in Grand Rapids, Wikiwiki Poke Shop is the first to put the popular Hawaiian cuisine front and center on its menu.
Poke is a traditional Hawaiian snack that got its start on fishing boats. "Poke means to cut and they would dice up fish and mix it with a few things and make it as a snack," explained Keith Allard, owner of Wikiwiki Poke.
The poke that's made its way to the mainland also has Japanese influences.
Opening today, Wikiwiki Poke, at 1146 Wealthy St. SE, plans to offer six to 10 "house favorite" bowls, which will include its daily specials, as well as a handful of salads and a selection of smoked fish options such as jerky and dips. The menu allows for customization, so customers can style their own bowl with the ingredients they want.
Allard said his goal in opening the restaurant was to create a fast-casual concept where patrons could stop in for fresh, healthy options on the go.
"It will be counter service, really casual, very easy for to-go orders," he said. "That is also one of the things that appealed to me, overall my favorite thing is when it's all mixed together and I can watch Netflix and eat."
Allard won't be pushing customers out the door, however. There is a space for customers to sit and enjoy their meal and the interior of the restaurant has a welcoming quality as well as a fun mural and other visually stimulating work on the walls.
Allard said dine-in customers can also enjoy the restaurant's oyster bar. Wikiwiki Poke will offer oysters on the half shell every day. Allard said the oyster menu is one of the ways he intends to flex his creativity.
"It was important to me that we be able to change our menu monthly, weekly, even daily," Allard said.
Wikiwiki Poke is Allard's first restaurant venture, but he has a long background in the restaurant industry, having previously been employed by Fishlads, Carvers and Graydon's Crossing.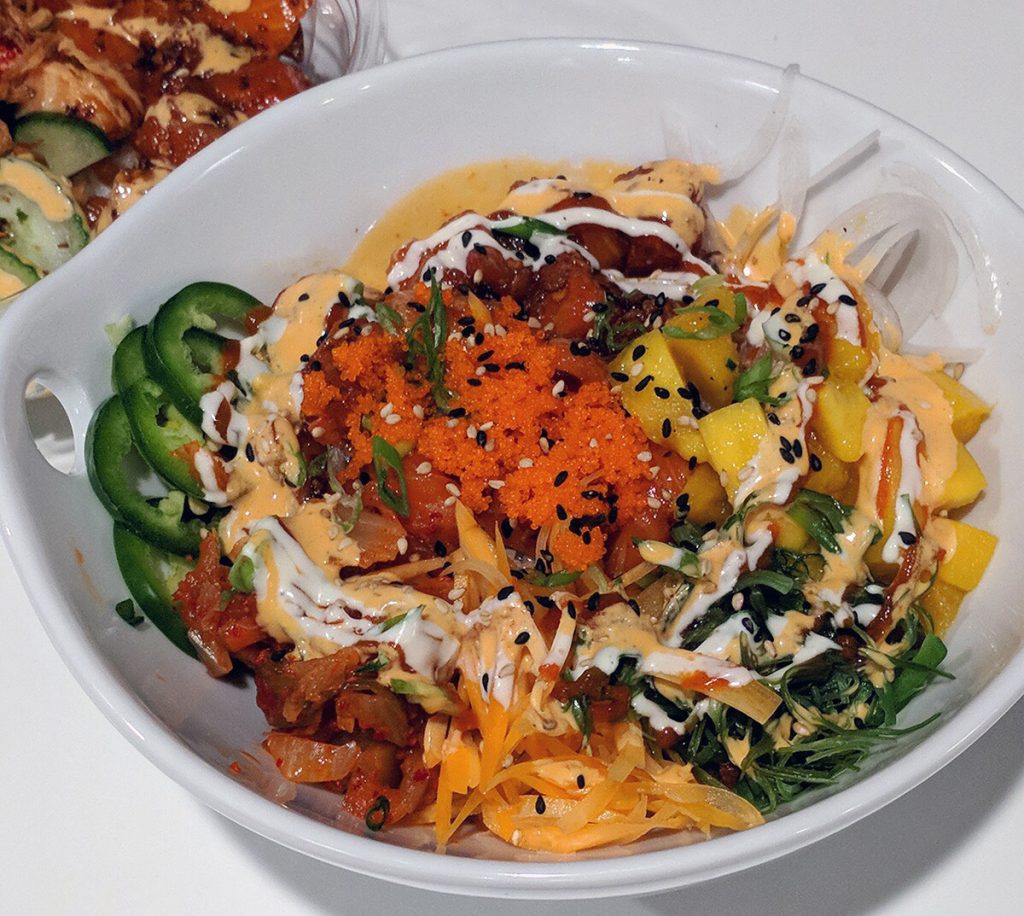 "I always wanted to do my own restaurant, but that isn't always a smart business move," he said. "I started hearing about poke shops and it spoke to me in a unique way. I like seafood and fish and it is economical, healthy and quick, which is a good combination."
Allard said Wealthy Street provided the perfect opportunity for a poke shop, because while there are plenty of restaurants along the corridor, there aren't many quick options. It's also where Allard has always called home.
"I live in this neighborhood and grew up nearby. When I wanted to open this it was the ideal spot," he said.
Once the restaurant is up and running, Allard said he plans to add retail seafood options as well. "If someone wants to buy sashimi, for example, we will offer it by the pound."
Wikiwiki Poke will be open for lunch and dinner.
Facebook Comments