Chef Jenna Arcidiacono is something of a culinary maestra. Her restaurant Amore Trattoria Italiana has been a West Michigan favorite for nearly nine years (and was recently named one of Grand Rapids Magazine's top 10 restaurants in Grand Rapids in 2017). The only thing she's known for more than her bright pink hair and electric personality is her fantastic Italian cooking.
From serving as a chef in the Signature Chefs event to raise money for March of Dimes Michigan to hosting fundraisers for the K-9 unit for the Grand Rapids Police Department and Rockford bands, her hospitality has almost become synonymous with her nickname, Chef Jenna.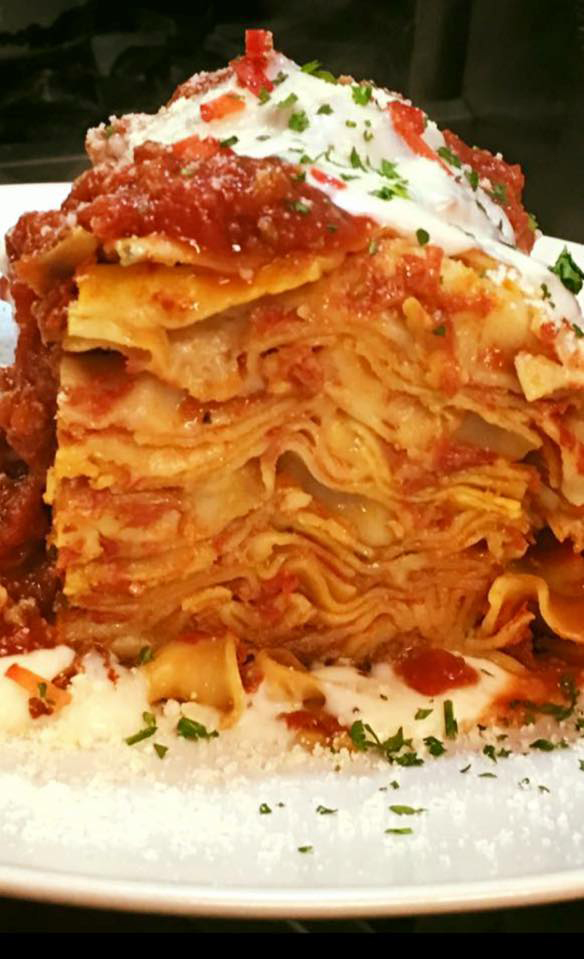 Opening a restaurant had been Arcidiacono's dream since starting in the restaurant industry. So, when the Comstock Park location became available (with a transferable liquor license), she and her husband Maurizio set out to bring a taste of authentic Italian to town. Having lived in Italy and worked in Italian restaurants before, she knew what she wanted and what she didn't.
"As a business owner, you have to stick to what you believe in and what you feel your business should be doing — even if you have resistance," said Arcidiacono. "If you're true to yourself, you can do a better job for everyone."
With a location that's outside of the downtown Grand Rapids area, she knew they'd have to make it a destination.
"The food had to be so good that people would be fine with driving out to see us," she said.
Named after the nickname that she and her husband call each other (Amore), it quickly became a destination for authentic, homey Italian.
From the outside, the spot may look unassuming and reserved, but the delights served inside are a sharp improvement from the average Italian restaurant.
But if you're looking for ranch dressing or spaghetti and meatballs, look elsewhere. Arcidiacono's standards of what's authentically Italian also remain unmovable.
Instead, dine on wild boar and porcini mushroom pappardelle and fig, mozzarella and prosciutto pizza. If you're looking for something new, try the braised rabbit with mushroom Marsala sauce.
"When people visit Amore, we want them to feel like they are coming to our house for the night, like they're invited into our family," said Arcidiacono. "Spoil you, feed you — we try to make it a comfortable place you can hang out and have a good time."
Not only does the staff know the ever-changing, seasonal menu from top to bottom, but also an owner (either Arcidiacono or her husband) are present every day.
"We like to talk and meet the customers; it's something that's so important. When you actually get to know the customers that come in, you can base menus off of what people really like and what they're looking for."

Amore's Blackberry Tiramisu
An example of the Amore team's hospitable spirit occurred recently on Arcidiacono's birthday.
A reservation had accidentally been made for that day when the restaurant was closed. To make matters more complicated, the phone number written in the reservation book was hard to read — so, after trying multiple variations of the phone number, they weren't able to alert the customers of the mix-up.
"We made this reservation mistake, we're going to cook for you and we'll honor it 100 percent."
As only Arcidiacono would do, the team went into the restaurant, prepped the kitchen and waited for the customers to arrive.
Only, they didn't arrive. The customers had called earlier that morning and heard on the answering machine that the restaurant was closed. Chalking it up to a mistake, they didn't come in.
A few days later, Arcidiacono was able to get in touch with the mystery couple and made it up to them again with dinner on the house a different night.
It's that type of customer-first, ultra-hospitable atmosphere that sets Amore apart from anywhere else in town.
What really makes Amore stand out from other Italian restaurants is Arcidiacono's strong connection to Italy. She not only lived there for years and visits often, but she also leads two annual foodie-focused trips of 13 people to Italy each year to immerse others in flavors of the La Dolce Vita.
In past years, they've visited the Amalfi Coast, the island of Capri, Tuscany, Sicily, Milan, Venice, among others.
Each trip sells out within a week (sadly, this year is already sold out), and they spend the week cooking with local chefs and touring farms and wineries. The trips are capstoned by eating at a Michelin-star restaurant.
Everything that Arcidiacono does, from cooking to culinary tours, from the food to the restaurant's atmosphere revolve around her personal philosophy that "feeding people makes them feel good."
Owning a restaurant and serving up amazing food isn't something that she takes lightly.
"Good food can change someone's day."
*Main photo by  Brian Kelly Photography
Facebook Comments