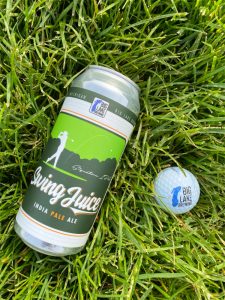 A golf- and outdoor activity-themed IPA is returning to Big Lake's lineup in time for summer.
Holland-based Big Lake Brewing said Tuesday, May 31, it is bringing back its American IPA Swing Juice in time for the 2022 golf and outdoor activity season. It will be available at golf courses and golf centers throughout Michigan and will be served at the Meijer LPGA Classic golf tournament.
Swing Juice (5.5% ABV and 25 IBUs) is a juicy IPA brewed with Citra and Amarillo hops with a fresh, clean taste.
"Michigan is a premier location for golfing in the summertime, and as avid golfers ourselves, we want to offer a craft beer for our residents and visitors that's crisp, delicious and can simply be cracked open," said Zachary Dreyer, head brewer at Big Lake.
"Bringing back Swing Juice this year offers golfers, beachgoers, softball players and many others a delicious craft beer that captures Michigan summertime on a beautiful, warm day."
Swing Juice will be served at this year's Meijer LPGA Classic, Thursday-Sunday, June 16-19, at Blythefield Country Club, 5801 Northland Drive NE in Belmont, along with Big Lake's flagship beer Blood Orange Haze.
The Meijer LPGA Classic is a yearly golf tour that features the top 144 female golfers in the world.
Originally launched in 2019, Swing Juice also is available on draft in bars and restaurants and in retail stores through Imperial Beverage.
Along with Swing Juice, this season's releases include Camper IPA, Lake King, Razzberry Lime Gose, Tropical Ale, Blueberry Ale, Lake Haze, Mango Habanero Haze, Blood Orange Haze and more.
Big Lake Brewing is based at 13 W. Seventh St. in downtown Holland.
Facebook Comments