Just a few months ago, I was sitting at the same table Ernest Hemingway spent many days at in the heart of Madrid.
Spain popped into our wanderlust list fairly recently, but my wife and I were blown away by the country. Perhaps most stunning was the simplicity of the food that could tickle tastebuds in incredible ways.
On top of the amazing dishes, from a bowl of olives to pan con tomate to homemade paella in the backyard of a local cooking instructor, the affordability in Spain was perplexing. Not exactly what I expected from a Western European country.
It is easy to overlook that one of downtown Grand Rapids' dining staples, San Chez Bistro, has been pumping out tapas in a Spanish way for more than three decades. That's certainly helped keep Spanish cuisine among one of the more familiar to West Michigan tastebuds, sometimes without even thinking about it.
Those days of sharing dishes with friends and family downtown certainly helped make me feel at home at the tables in Spain. In fact, there were discussions on whether we should make the move to Barcelona after my wife was offered a job at the incredible diner-like, hole-in-the-wall gem that was Bar del Pla.
That trip was in February, so by May, the wanderlust was back in full force and so was thinking back fondly to those excellent meals in Spain. So, when the call came to check in on MDRD at the top of the Amway Grand Plaza, I jumped at the opportunity and headed up to the 27th floor for one of the best views available in Grand Rapids.
MDRD is already known as one of the best date night spots in Grand Rapids. You cannot beat the swanky interior, romantic nighttime vibes and artistic desserts that have made their way onto Instagram. In 2022, as managing editor of this magazine, I named MDRD among the top five best restaurants in Grand Rapids, if only for achieving a solid meal surrounded by aesthetics that are unmatchable in the city.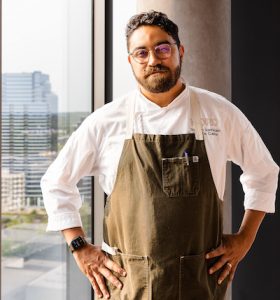 But on my most recent visit, MDRD blew me away and turned in one of the top three meals I've had in Grand Rapids since returning from my four-year stint in Las Vegas in 2021. Because it is one of the most upscale restaurants in Grand Rapids, it strays from the simplicity of most Spanish cuisine, but it brings it up in an elevated way that we did experience in some restaurants. That said, while MDRD has a reputation of being an expensive dining destination, it certainly is possible to pop up and enjoy a beverage or two with a few tapas items at a reasonable price for a normal (non-special occasion) date night.
Let's start with the service. It was absolutely stellar, led by our server's excellent comprehension of the menu and its items, from drinks to the dishes. One of our diners has strict dietary restrictions. The server was quick to acknowledge which dishes were OK and which could be modified easily and still be much the same.
As we waited for our dining partners, my wife and I quizzed our server on pre-dinner cocktails. She expertly navigated between drinks and explained the subtle differences between a few of them, including the Claramente — a tequila base with hints of mezcal — and the mezcal-heavy Clavel Rojo. The Claramente was a delightfully light and citrusy tequila drink. At the aforementioned Bar del Pla in Barcelona, we were navigated to hit the gin and tonics, and so at MDRD, I did. It was a very large pour with plenty of vibrancy to keep eyes, noses and mouths happy.
Once it was time to order dinner, we selected a bottle from an extensive wine list, featuring mostly Spanish wines. The region is widely overlooked in the United States by many, and it is a shame, because as one of the original historic wine making regions, there are plenty of incredible offerings at affordable prices.
On to the food!
It can be difficult to elevate a cuisine, particularly in West Michigan where many diners much prefer large portions of familiar foods. MDRD also deals with the luxury of competing with the views of the area's landscape for attention to the dishes at hand. In so many ways, MDRD accomplishes both, and then some.
Our table ordered several plates of pan con tomate, a very simple dish that is comparable to Italian cuisine's bruschetta. Rather than diced tomatoes with a dressing, it is toast, smeared with some garlic and covered in grated tomatoes. Simple, but divine.
Likewise, a plate of patatas bravas offers a fun way to chow down on potatoes. In Spain, they are often quartered, roasted, or fried and then smothered in the salsa bravas, a semi-spicy tomato paste-based sauce. At MDRD, the dish comes as stacked fried cubes of potato on a bed of salsa bravas; geographic, inventive, and tasty. Another win. We did not order (which I now regret and will be back extremely soon) the tortilla de MDRD, the restaurant's spin on another extremely common Spanish dish: the Spanish tortilla. The potato omelette – occasionally with additions, like MDRD's onion and Manchego – is often served cold, and yet another example of when simplicity is king with an easy path to elevation.
The asparagus was among the best I've ever had; grilled and dressed with a light ajo blanco, an almond and garlic soup.
As for some of the more substantive dishes we ordered, the pulpo a la gallega was one of the heartiest offerings of a tapas I've ever seen. The octopus legs were hearty, thick and grilled to perfection. The tender meat of the pure muscle was incredible, and while it can be intimidating for a picky eater or someone who loves animals, such as myself, it is well worth it. The lamb chops were likewise perfectly cooked and devoured quickly.
We also ordered the massive Jamon y Quesos plate, which honestly was a steal at $42. Grab two glasses of wine and this dish and a date night will be more than satiating. My only gripe here is more bread, please.
The tartar de ternera was likely the best overall dish we had. A beef tartare made with roasted bone marrow and plated in the bone. Definitely more approachable than a bone of marrow to spread on bread, the tartar melts in your mouth and explodes on the tastebuds.
We largely stayed away from the main plates, though did include the raya al limon in our shared plates. The skate wing with little neck clams served with a nice lemon salsa was a perfect order to include with the rest of our menu items. In the past, we have ordered the paella, and am not quite sure that can get a full recommendation.
All in all, the meal, as mentioned earlier, is among the best I've had in Grand Rapids the past two years. It is well worth a visit and doable for under $150 for a date night. So, while not extremely affordable, certainly a reasonable price for an exquisite evening with good food and drinks and an unmatched view offering a cool vibe.
There is one thing I would suggest, although I'm sure MDRD does not hurt for visits, as it was full on a Thursday evening when we visited. In Madrid, no matter where you went, if you ordered a drink, it came with a nice little snack, be it a bowl of olives or chips, maybe even some jamon. The next round, ditto. That could make a drink meeting extra special, and even more authentic.
Great summer snack, Pan con tomate: 
Tomatoes
Olive Oil
Garlic
Sea Salt
Ciabatta, or other fresh bread
 Method: 
Brush toast with olive oil, grill or toast in oven.
Grate tomato with cheese grater.
When toast is golden, rub with sliced garlic clove.
Spoon tomato over bread and drizzle with olive oil and a pinch of sea salt.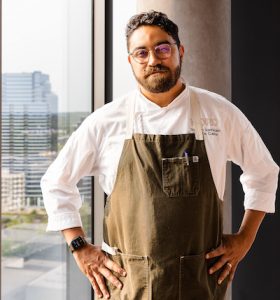 Facebook Comments