There's something deeply romantic about wine, cheese and charcuterie. This simple but elegant spread can pose equally well as date night munchies or as an appetizer to an indulgent meal.
With Valentine's Day quickly approaching, we thought we'd help you up your culinary game to impress your partner with fancy meats and cheeses. We talked to the experts at The Cheese Lady and Aperitivo, who shared some suggestions on creating the ultimate charcuterie platter.
Cheese Pairings
While many people turn to the hard variety for cheese plates, Heather Zinn, owner of The Cheese Lady Grand Rapids, suggests the more romantic triple-cream French cheeses, like Delice de Bourgogne or Saint Angel Triple Creme Brie. Pair with a French chardonnay wine to complete the theme.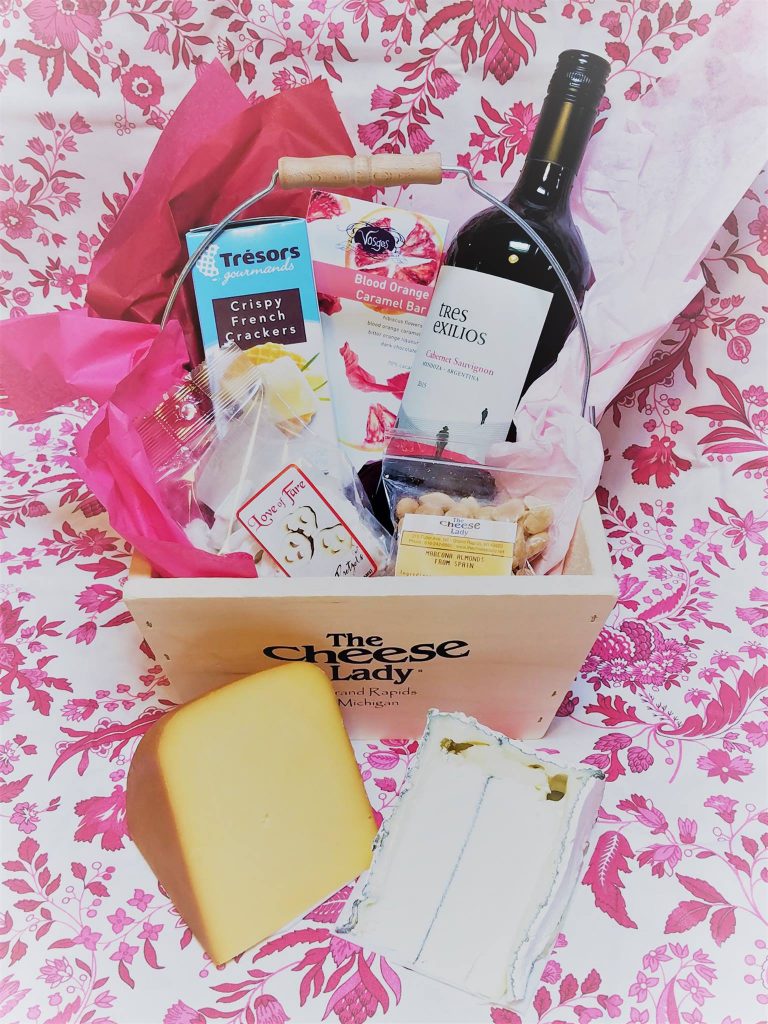 Zinn also recommends pairing aged gouda with chocolate. Pick up your favorite brand of chocolate-covered espresso beans with Beemster X-O, an aged Dutch cheese that tastes of whiskey, pecan and butterscotch. This duo pairs well with a big, red Zinfandel (like The Prisoner Wine Company's 'The Prisoner 2015') or a full-bodied Cabernet Sauvignon (like the 2014 vintage from Atlas Peak wineries), both available online at Martha's Vineyard.
Charcuterie Choices
If you thought cheese pairings was complicated, charcuterie plates are even more complicated. Aperitivo co-owner Kate Leeder has a few tips and must-try suggestions to make it easier than ever.
To start, Leeder suggests buying a variety shapes, sizes and textures for your charcuterie plate. Try to select one from each type of cut, from whole-muscle meats (like prosciutto or coppa) to terrines (like pâté and mousse) to salamis.
For prosciutto, opt for the smoked La Quercia Spec from Iowa. It's family farm raised and has a sweet, earthy flavor and a light applewood smoke aroma.
Then, slice up the larger format Smoking Goose Meatery Dodge City Salami with the smaller sized Salume Beddu Finocchiona Salami to add some variation to the plate.
Feeling extra fancy? Pamper yourselves with terrines, which are packed ground meat treats. Leeder suggests trying their Truffled Chicken Liver Mousse, Pork Pistachio Pate or Rabbit and Pork Cheek Terrine.
Lastly, Leeder suggests finishing off your charcuterie with some crunch and color. Think pickled vegetables (like olives, cherry tomatoes and peppers), spreads (like Dijon mustard or pear mostarda) and sliced, crusty bread (like Field & Fire baguettes).
Pair your charcuterie plate with a dry Cremant d'Alsace Riesling, Iberian Tempranillo or an Old World Pinot Noir.
Up to the task? Snap a pic of your Valentine's Day spread and tag us on Instagram. We'd love to see your creations.
Bon appétit!
Facebook Comments