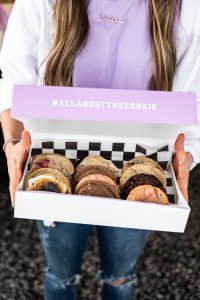 Outside-the-box cookie flavors, like those with potato chips and cereals, are coming to Grand Rapids via a new location of Detroit Cookie Co.
Originally founded in Ferndale, Detroit Cookie Co. ships cookies all over the country in flavors such as the Big Three, which includes potato chips, Michigan dried cherries and chocolate chips, and Cap N' Berry O, which includes Cap n' Crunch Berries, Oreo cookies and rainbow sprinkles.
Detroit Cookie Co. will open its third location in Michigan, an 1,850-square-foot retail space vacated by GameStop, at 5088 28th St. SE, in October, according to Colliers West Michigan, which assisted the cookie company with securing the location.
"We are so excited about bringing this unique small business to Grand Rapids in a centralized location so people from all around can enjoy our cookies," said Dan Rose, partner at Detroit Cookie Co. Grand Rapids. "We can't wait to share our one-of-a-kind recipes with the community."
The company is planning more expansions in West Michigan, Colliers said.
"The new store on 28th Street offers great visibility to a large number of potential customers, making it a great place for a new business to locate in West Michigan," said Earl Clements, senior vice president at Colliers West Michigan. "I'm looking forward to seeing the continued growth of Detroit Cookie Co. in new markets."
More information is at the Detroit Cookie Co. website.
Facebook Comments