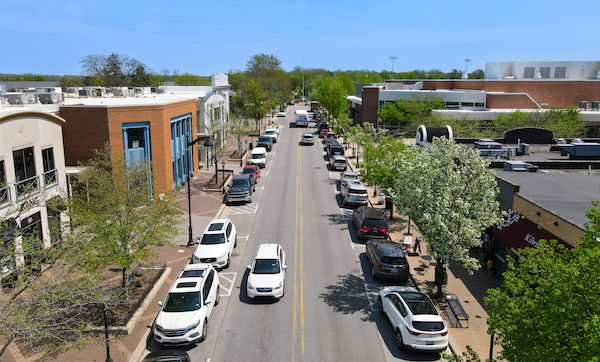 People who enjoy visiting the Gaslight Village Business District will now be able to do so drink-in-hand thanks to a provision approved last July.
"We are thrilled to add a social district to East Grand Rapids and enhance our standing as a premier destination for community members and visitors," said East Grand Rapids Mayor Katie Favale.
A "social district" allows for the consuming of alcoholic beverages sold by qualified establishments within a designated area. The Michigan law came about during the summer of 2020 with the intention of boosting economic activity during the COVID-19 pandemic, allowing for off-site consumption of alcoholic beverages.
"Gaslight Village has been growing and welcoming new businesses over the past few years, and this new social district offers yet another wonderful amenity to the visitor experience," Favale said.
According to the new rules, people 21 and over during certain hours may consume alcohol purchased from designated business on Lakeside Drive from Wealthy Street to the north end of John Collins Park (650 Lakeside Dr. SE.); on Bagley Ave., from Crazy Charlie's to Wealthy Street; on Croswell Ave. from Big Bob's Pizza to Wealthy St.; and on Wealthy St. SE from Lovett Avenue to Lakeside Drive (excluding the sidewalk in front of East Grand Rapids High School and Memorial Field).
Alcoholic beverages may also be consumed in Regatta Plaza (the plaza on the north side of Wealthy Street between Bowdie's Chophouse and Carolina Lowcountry Kitchen) and in Johns Collins Park.
Social district hours are 4-10 p.m. Monday – Friday and 11 a.m.-10 p.m. Saturday and Sunday. Summertime hours begin the first Monday after the end of the East Grand Rapids public schools academic year. At that time drinks may be consumed from 11 a.m. – 10 p.m., through the Sunday before school starts.
Some additional rules: all beverages must be purchased from participating establishments within the social district during hours of operation and drinks must be contained in approved cups with a branded East Grand Rapids social district sticker. No outside alcohol allowed.
"This is an exciting time for Gaslight Village and East Grand Rapids," said Shannon Schulz, co-president of Gaslight Village Business Association. "The social district will bring a new level of excitement to the area, providing a space for residents to gather, socialize and support local businesses. The GVBA looks forward to working with the city and the community to ensure the social district's success and Gaslight Village's continued growth."
Facebook Comments