A popular brunch spot is expanding its offerings to include dinner.
Starting September 13, Lucy's, located at 1747 Plainfield Ave., will roll out the new menu which includes a variety of dishes and a full-service bar– featuring craft cocktails made with local spirits, beer, and wine by the glass.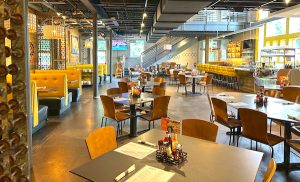 The restaurant which boasts a buzzing patio and seating for 160 inside is part of Essence Restaurant Group. Chief executive officer and partner James Berg said the company, which also runs Grove, Greenwell and Bistro Bella Vita, had intended to consider dinner service in the future, just not this soon.
"Lucy's has been doing really well with its breakfast, brunch, pastry and coffee bar service, and the Creston area continues to gain foot and car traffic, and dinner is just a natural fit for this neighborhood," said Berg.
The company's Chief Culinary Officer Jeremy Paquin will oversee kitchen operations. He has been evolving the food menu to be a mix of southern and Midwest comfort cuisine. "We are excited about bringing this menu to the Creston neighborhood," said Paquin. "Our menu will continue to evolve over time, too."
Milk braised pork, steak and eggs, and root vegetable hash are some of the standout items the chef promises, in addition to several vegetarian options. Vegan dishes will be prepared on request.
The new dinner menu will be available 2 – 9 p.m. Wednesday through Friday to begin with and will extend to other days of the week in the future. "We know the open hours might seem a little limited right now," said Berg, "but we want to ensure we are able to provide the same high-quality experience we deliver at our other locations in Grand Rapids."
Facebook Comments