When you are as obsessed with vintage shopping as I am, you can't avoid sharing this love with everyone around you. My sister's wedding is at the end of September and I've been searching my local vintage/antique stores to find something completely unique that will help her remember her special day.
Most people are familiar with the traditional rules for a wedding: something old, something new, something borrowed, something blue. Naturally, I felt the need to search for something old. A few months ago, while shopping at Warehouse One Antiques, I spotted a "His & Hers" towel set from the 1920s in its original box, unwrapped and somewhat untouched by time. I was in absolute awe of its condition.
I debated whether or not to purchase the towels for my sister or even just for myself to have when I found Mr. Right (pathetic, I know). After weeks and weeks of thinking about those hand towels (because that's something any sane person stresses about), I decided to go back and get them.
I usually have a rule with myself, if I continuously think about something then it really deserves a place in my life. It was official, I needed to get these towels for my sister's wedding. There was something so delicate and pure about them. I knew they would make an exceptionally timeless wedding gift.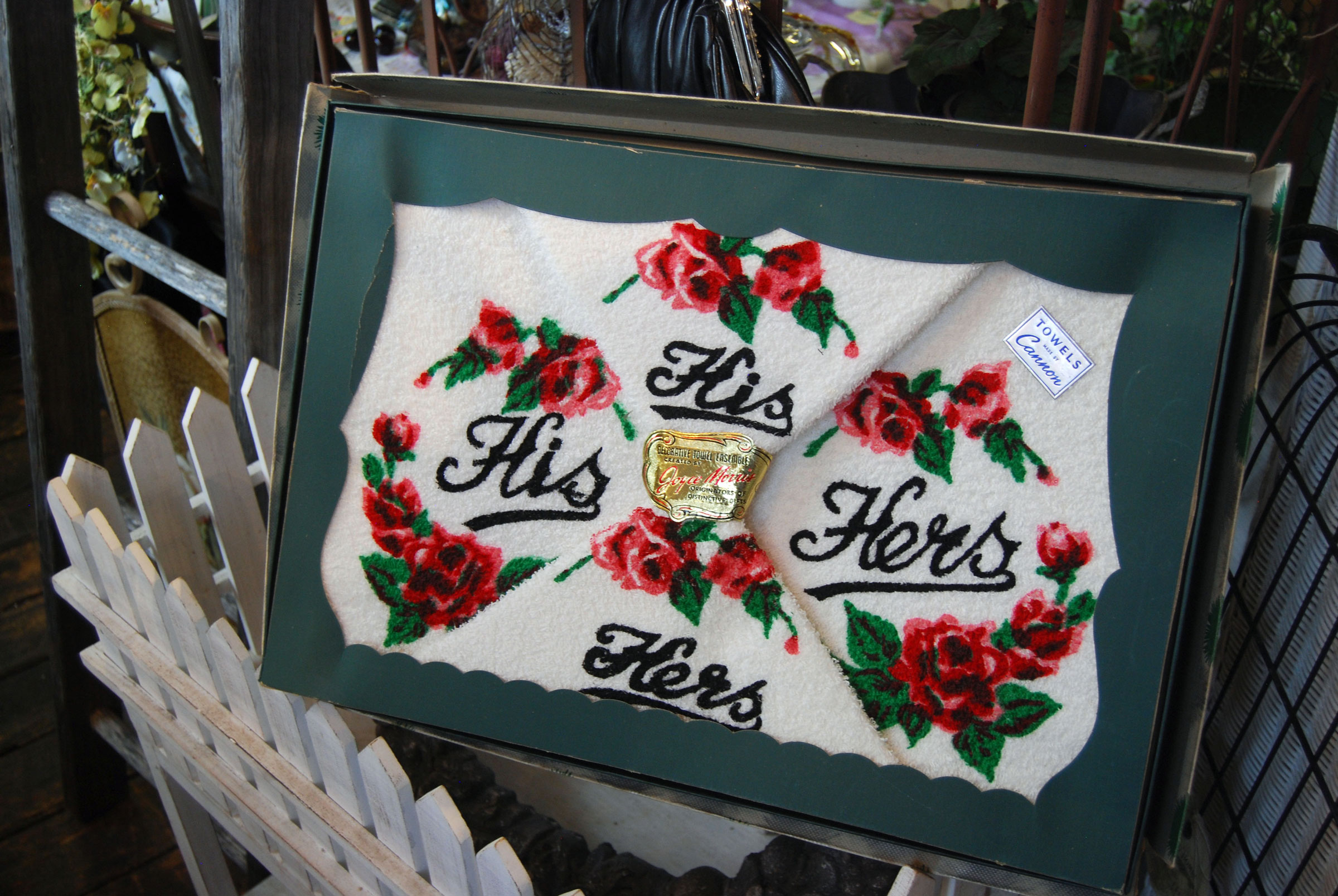 When I arrived at Warehouse One and walked back to the section where they were previously located, they were gone. They were the towels that got away. I tried to come up with a new plan as I walked around the store for another half hour and that's when I saw them. Not one, but two sets of identical hand towels, but of varying sizes.
I chose the larger box set, but the smaller one is still available in the store and ready for the next lucky person! The larger box set was dated from the 1920s and purchased for $25. You can still see the date etched in pencil on the side of the box.
I was also able to find a simple bride and groom themed wine bottle stopper/opener set, which is a great staple for any newlyweds.
Aside from gifts for the bride and groom, antique stores are a great place to find something for yourself, especially if you are crunched for time. Century One has always been my place to go if I need to quickly find a new purse or clutch for an event as well as endless amounts of costume jewelry.
Depending on the quality of vintage clothing, most dresses/shirts/pant suits range anywhere from $15-$50. You can easily complete an entire wedding look for $100 or less. I wasn't even looking to purchase a dress for myself, but I ended up finding a classic styled black dress with red polka dots for $28, which would look great paired with black wedges and simple pearls.
Anyone can buy a hand mixer or a set of pots and pans, but if you can take the time to look for something a bit more personal and a treasure from the past, why not? All of these things and more can be found at Warehouse One Antiques, Lost & Found, Century One and the plethora of other antique shops in the region.
*Photos by Amy Baird
Facebook Comments