If there were a contest for the hardest-working room in the house, the kitchen would win first place and the mudroom would come in a close second. Now more than ever, a well-designed mudroom sets the tone for an organized home. The design options are numerous and completely customizable for each household, creating a stress-free setup for a very active space.
Tip #1: Mini washer and dryer

Instead of one large laundry room, many homeowners are enjoying an additional laundry space tucked into the mudroom. With the mudroom right off the garage and kitchen, having an efficient set of washing machines for dish towels, gardening clothes and socks that shouldn't enter the house is very convenient.
Tip #2: Durable flooring
Everyone wants easy to clean flooring in the room where muddy boots, dogs and snow pants reside. The first choice is tile, but did you know there are other options? In this mudroom, we used end grain wood, which can be arranged in a variety of patterns. Wood end grain flooring is cut against the grain, which makes each piece extremely durable for high traffic areas. Streets have been built with end grain wood tiles because of its impact resistance and toughness! RT Baldwin sourced and installed the mudroom flooring for this project, and the results are both beautiful and indestructible.
Tip #3: Dog and boot wash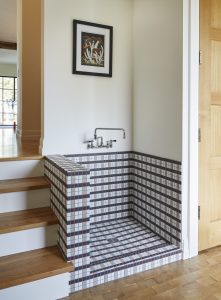 Do you wish you could rinse off dirty boots without dragging them into the house? Or spray down the dog who has muddy paws? Setting up a station in the mudroom with a faucet and drain is so convenient for an active household. Filling a bucket for cleaning water, hanging wet bathing suits, letting snow boots drip dry, there are endless uses for a well-designed washtub in the mudroom.
Tip #4: Individual lockers
Everyone will agree that keeping items separated and organized by family member is key to staying tidy. Make sure the inside of each locker has organizing tools,
so everything doesn't end up in a pile at the bottom. Hooks at varying heights and shoe dividers at the bottom help keep everything visible.
Tip #5: Traditional closet space
Many jackets can be hung on a hook in the locker, but some coats are best stored on a hanger. Putting a small coat closet in the mudroom helps keep everything close to the garage and entry. Additional storage for shoes or taller items is also very helpful.
Tip #6: Bench

A bench is helpful when putting on shoes, bringing in groceries or packing for the lake house. A spot to sit or stage items as they come in and out of the house, benches are a necessity in the mudroom.
Tip #7: Baskets that breath
Storing items in a locker is great, but some things need to be accessed more quickly. This makes baskets a great choice for everyday slippers and shoes. Also, when they start to get dirty or smell it is easy enough to bring them outside for quick cleaning.
Facebook Comments