Before it became The Friesian Gastro Pub, the building at 720 Michigan St. NE was four walls of eroding concrete and a dirt floor. That didn't stop the owners from envisioning a fresh addition to the Midtown Corridor, but they did need direction.
With the growing food and bar scene in Grand Rapids, it's no longer enough for restaurants to have a really good menu. Patrons are looking for an experience when they go out. They remember what they ate – and how they felt. For the owners of The Friesian, Craig Jones, Zan Lamkin and Phil Rienstra, they wanted their space to be a sociable atmosphere for people to hang out after work and on the weekends, to enjoy food and cocktails in an eclectic space. By the time they connected with interior designer Melissa Marklevitz of Via Design, the owners had chosen a name, a theme and design elements they hoped to incorporate throughout the space.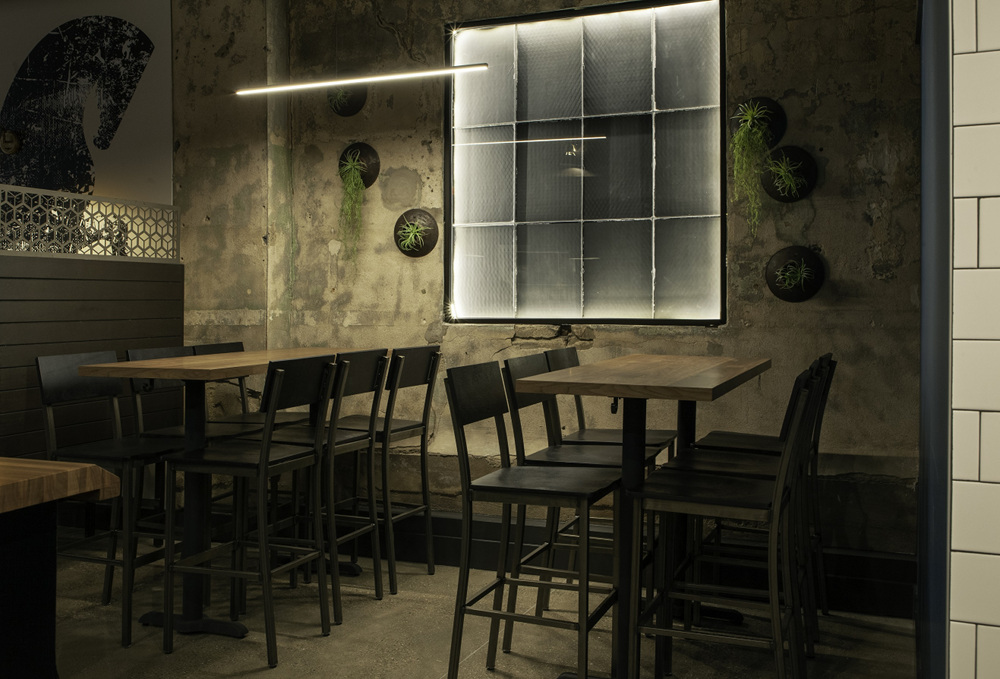 Designing a restaurant can be as personal as designing a home. Often, the restaurateurs will be influenced by something significant in their lives or in their community. The vision behind The Friesian began with the owners' Dutch heritage, roots they share with so many in West Michigan. Friesians, a Dutch horse native to the province of Friesland, Netherlands, was the inspiration for the gastro pub's name. Throughout the design, Marklevitz included details inspired by the horse, from the wall mural to the straps attached to the booths resembling the fastening of a saddle.
A three-sided bar was designed alongside local furniture manufacturer Studio Wise. The bar is finished with a walnut top and features a geometric laser-cut pattern at its base. Long lines lengthen a room, and for The Friesian's compact space, the bar made the restaurant appear larger. The bar and the surrounding booths are equipped with outlets for customers to plug-in phones and laptops.
When a project includes an old building, part of the design process is determining what can be kept and used in new ways. The Friesian owners felt it was important for their new space to incorporate the existing character of the building. Marklevitz and the construction team at Construction Simplified were able to preserve some of the original wall texture, the windows and the natural wood ceiling. The design was modernized with LED light fixtures, a polished concrete floor and a vibrant blue, gold, and orange color scheme.
The design of The Friesian pays homage to Dutch culture but reflects the changing Grand Rapids neighborhood with an eclectic food and drink offering, and an atmosphere that customers will want to return to.
Aricka Gannon is marketing and communications coordinator at Via Design, a full-service design firm specializing in architecture, interior design and furniture design. Via Design serves Grand Rapids and the West Michigan community with projects ranging from interior residential to large-scale commercial.
Facebook Comments