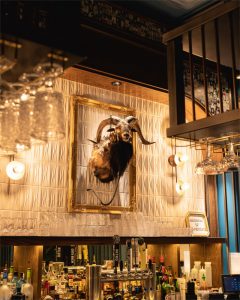 The owner of a waffle, coffee and cocktail bar in downtown Grand Rapids added new processes to accommodate customer demand in the first month of operations.
Owner and founder of Social Misfits Spencer Raymond said Tuesday, Jan. 25, the restaurant added a new waitlist process, streamlined its prep processes and recipes, enhanced its electrical system to add another waffle iron, and soon will be offering tableside ordering by QR code, all of which he said are designed to help the restaurant keep up with the "outpouring of support" it received since opening in mid-December.
"When we opened just before the holidays, we had no idea how Grand Rapids was going to react to this unique restaurant concept," Raymond said. "Clearly, I saw the potential, but up until that moment prior to opening our doors, I had no idea if anyone would feel the same."
To streamline the experience, customers now can sip a craft cocktail, check out the lounge decor or explore the neighborhood and be notified via text message when their table is ready.
Those curious about the wait before they head downtown can send the Social Misfits team a message directly through Google and receive a fast response with the current wait time.
In response to strong demand for the Social Misfits chicken and waffles dish "Country Grammar," Social Misfits added electrical appliances to the kitchen to run another waffle maker and streamlined its prep processes and recipes to be more efficient.
The new QR code ordering system is scheduled to launch Feb. 1 and will enable guests to order directly from their table while a server walks them through the process and answers any questions they may have. The system will be designed to help eliminate paper waste and potential inaccuracies during the ordering process, expedite payment processing, and ensure accuracy with special requests and substitutions like Social Misfits' gluten-free waffle base. Customers who are not familiar with QR code ordering will be able to use a regular menu.
Social Misfits is open 8 a.m.-2 p.m. and 4-10 p.m. Monday-Thursday, 8 a.m.-2 p.m. and 4-11 p.m. Friday-Saturday, and, effective Feb. 6, 9 a.m.-4 p.m. Sundays.
Facebook Comments