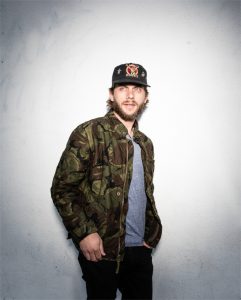 Midwesterners are known for our modest niceness, our "opes" and our inclination to make fun of ourselves.
Charlie Berens puts them all together in hilarious videos and memes that regularly go viral, especially in our little corner of the world. The Wisconsin native once was a journalist, but eventually decided he'd be better off making us laugh.
Berens will be a headliner during next month's LaughFest, performing March 17 at Fountain Street Church.
Recently, GR Mag caught up with Berens. (Stay tuned after the interview for an incredible bourbon dinner opportunity, some National Margarita Day recipes and an unforgettable pizza experience.)
GR Mag: For starters, have you ever been to Grand Rapids?
Berens: I was there, just heading out on my way somewhere, on the way to Muskegon. I've been there more in passing.
GR Mag: So, when I prep for interviews — as you probably know from being a journalist — I go pretty deep, so I watched a lot of your videos. I stumbled on your great keynote for the University of Wisconsin journalism graduates. How did you end up as a comedian?
Berens: I was in Los Angeles, and I was doing red carpet reporting, sort of to keep sane, I started doing standup. I was always interested in performing, a little bit of a musician, but never really good enough at music to do that. But I've been a host as well, so there was some similarities in those two things. So, I organically found it, this character. No matter how bad I was bombing, this character carried it.
I decided to make a video, and at the time I was making a video a week until something took off. I needed something to take off to get rid of my job. So then, something finally took off, I said, "OK there's something here."
GR Mag: There are a lot of videos, how do you come up with the ideas and jokes?
Berens: A lot of it is just observing. I have a note section just full of ideas. But it's not just me by any stretch of the imagination. I get suggestions from fans. For my Manitowoc Minute, fans send in headlines. When you can brainstorm in a big group, the comedy will be better. I want the bit to be a reflection of the people, and the best way to do that is input.
GR Mag: Your tour takes you from big cities — such as Boston, Denver and Austin, Texas — to small towns in Wisconsin like Menasha and Hartford. Why the variations?
Berens: The small towns, there are so many amazing small theaters where you wouldn't expect them, built around the time when they built the churches. A lot of those towns are skipped over, mostly because they think they can't sell tickets. My whole bit is about small town Midwest culture, so I'm lucky enough I can sell tickets there. Plus, I like to get out, explore the town, stop and have a beer and make friends along the way.
GR Mag: Midwesterners laugh at this a lot because these bits are so true. It's all out of love of your heritage, right?
Berens: Half of the bit I pulled right from my grandpa's mouth, and I love that man more than I can imagine. It is all in good fun, and that's the thing about the Midwest. I don't know if it would work in a bunch of other places. There is something about the culture, the bar culture, but there is this strong part of this culture that people enjoy making fun of themselves more than others. We don't take each other too seriously.
GR Mag: What's next? Do you have any goals?
Berens: I would never have imagined this, but it's better than anything I could ever imagine. I'm going to keep doing what I've been doing and let it grow. There are a few things, I want to film a standup special and work on some scripted stuff, but I hesitate to set goals. I used to have goals and never really achieved them.
Tasty whiskey dinner
Whiskey fans have heard of Pappy Van Winkle, and in turn, like W.L. Weller.
Well, both are rare and expensive. But West Olive's Sandy Point Beach House is hosting a W.L. Weller dinner on Wednesday.
It looks like a can't-miss for West Michigan bourbon fans.
It's not DiGiorno, it's delivery and frozen
The other day, my wife and I had a transformative pizza experience: Talia Di Napoli.
The pizzas are made in Naples, Italy, flash frozen and end up on your doorstep.
I haven't had the pleasure of tasting fresh Italian pizza yet, but my 100% Italian wife has tasted it straight from the source and said the Talia Di Napoli brings her right back.
The pizzas are around eight for $100, but it's truly a different frozen pizza experience and well worth the price.
(The business idea also was a recent plot point in the Showtime show "Billions," which made me laugh.)
Margarita Day is here!
National Margarita Day is Wednesday. Former NHLer Chris Chelios' El Bandido Yankee can be found at Donkey Taqueria.
If you can't get to Donkey, check out some of these fun recipes that recently showed up in my inbox:
El Bandido's White Peach & Raspberry Margarita
2 ounces blanco tequila
1.5 ounces white peach syrup
4-5 muddled raspberries
1 tsp of sugar
.5 ounce lime juice
Jaja Watermelon Lime Mashup
1.5 ounces blanco tequila
2 ounces limeade
Spiked seltzer
Watermelon
Combine all ingredients in a highball glass over ice. Garnish with watermelon wedge.
Maestro Dobel Tequila Black Diamond Margarita
2 ounces Cristalino tequila
.5 ounce agave syrup
.5 ounce lime juice
Shake and stir ingredients over cubed ice with a salt rim. Garnish with lime wedge.
Milagro Spicy Verde Margarita
1 part blanco tequila
1 part Ancho Reyes Verde
1/4 part fresh lime juice
1/2 part agave nectar
Add all ingredients to shaker with ice. Shake well. Strain into rocks glass over fresh ice. Garnish with poblano chile and salted rim.
Facebook Comments