Talking to LA Miller boutique owner Lisa Miller means discussing leggings, fur and the art of layering.
GR|Mag: Where did LA Miller get its start?
Lisa Miller: I started the business about a year ago, concentrating on personal styling. It started out as an online store in my basement. I'd have sip and shops at my house and did expos and pop-up shops and realized the storefront was the way to go. Styling women is the main purpose—taking them out of their comfort zone with something they might not necessarily have tried before.
GR|Mag: How does the personal styling process work? How do you approach it? It seems a tricky path to navigate.
LM: It can be. People usually come in needing help and I ask them questions. Where are you going? What's the event? What's the attire you have in mind? With that information, I look at the body type—because that's so important and not everyone can wear the same styles—then I look at what's going to flatter them.
GR|Mag: What does LA Miller carry when it comes to clothing?
LM: There's a lot of statement pieces. There's jewelry and accessories. I've got some great suede and leather jackets and a fancy sweatshirt that's comfy, cute and trendy. There's also basics. I try to keep things different and fun. You'll find a basic shirt with a zipper or ruffle detail. I have dressier pieces like leather pencil skirts or silk bomber jackets. Suede leggings have been huge—and everyone knows leggings are more comfortable than jeans.
GR|Mag: What can we expect to see for winter's offerings?
LM: We'll have lots of blanket scarves, wool hats and fur.
GR|Mag: Let's talk about your shoe selection. Why did you bring shoes in?
LM: Because I love them! I knew right from the start that I wanted a good selection of styles that are trendy yet classic. Shoes have been a huge seller. I have some great over the knee boots coming in. They have a slight edge to them. I like things that are a bit edgy.
GR:Mag: How do you select clothing for the shop? What inspires you?
LM: When I'm on buying trips, I buy like I'm styling someone. I think, how can I put that on someone? I'm choosing styles for people and pieces that go together or have special details and flair. When I pick, my personality comes out and I like to have a good time and think of going out in those clothes or going on a first date.
GR|Mag: Tell us about your private styling parties?
LM: Everyone receives 15 percent off their purchase and the host brings in treats for the night. I'm available to pick out multiple styles for guests and we try things on. It's like a fashion show with friends.
GR|Mag: What do you love about your new space?
LM: Rockford is a shopping destination. You know you're able to go to multiple, wonderful shops.
GR|Mag: LA Miller has a big presence on Instagram. How does it help you connect with shoppers and fashion lovers?
LM: It works! It's an easy and free way to promote your brand and it's where the personality comes out. You can let your style come through and it draws you in and you see new things in the store. I swear, anything I post is sold out days afterward.
GR|Mag: Can you throw out a styling tip for our readers?
LM: I'm a huge layering fan, especially with fall and winter coming. Adding layers adds dimension and shape. Layer with vests or cardigans or even throwing on a long, infinity scarf adds length and totally changes an outfit.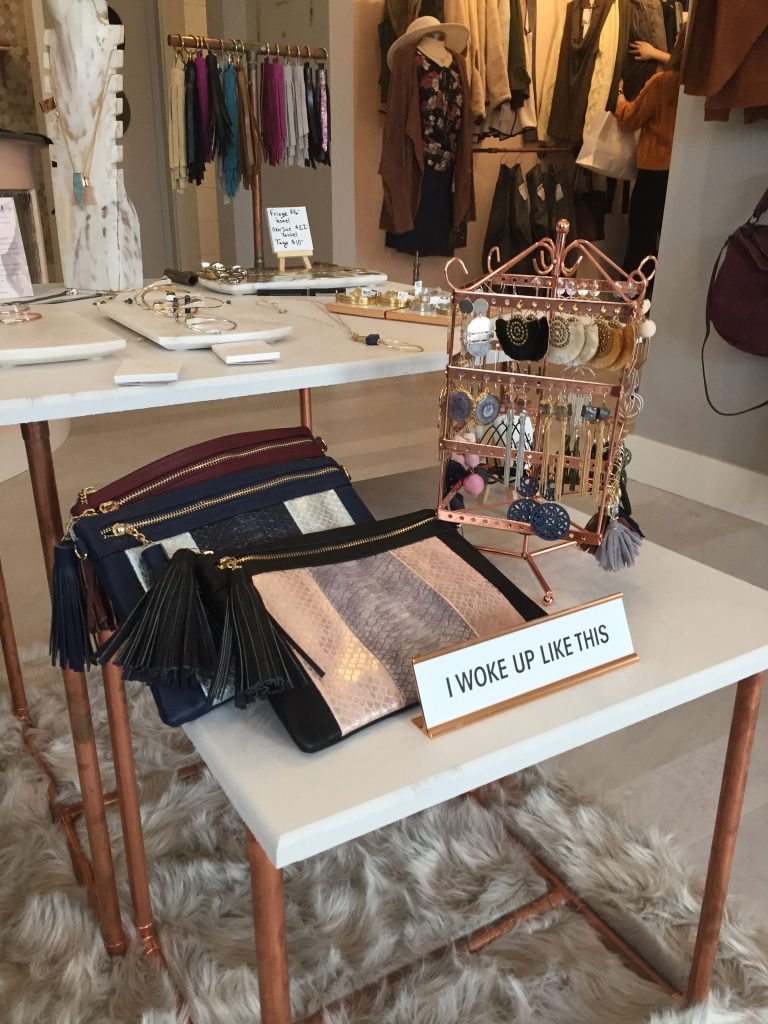 GR|Mag: What's always in style?
LM: I'm always telling people that they don't have to match. It doesn't have to be a rule. Mixing things up works. Instead of wearing the black skinny jeans with black booties wear an olive color bootie. Olive is like a neutral these days.
LA Miller Boutique is located at 65 E. Bridge Street in Rockford.
*Photos by Missy Black
Facebook Comments