Matchbox Diner and Drinks owner and executive chef Eric Chaitin knows the Grand Rapids food scene better than most. Originally from the North Shore of Chicago, he served as the executive chef at Rose's on Reeds Lake and later at the Watermark Country Club. He's since snapped up West Michigan favorites like Ottawa Beach Inn in Holland and the dockside Mermaid Bar and Grill in Saugatuck.
Although, after visiting Matchbox it's hard to believe that the sandy beach shack and metro diner could belong to the same restaurant group. They couldn't be more opposite – and that's not a slight to either location. They're uniquely separate, which makes Matchbox even more of a surprise.
After buying the Brandywine, a multi-decade breakfast establishment in Eastown, Chaitin took a gamble to flip to a restaurant that's more decidedly 2017. But his skill and experience resulted in success in a way that new restaurants could only dream of.
If you frequented the Brandywine, you'll notice first the transformed space. It's a welcome reprieve from the blustery Michigan winter.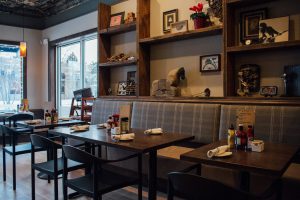 While there are milkshakes and burgers on the menu, don't expect checkered floors or a jukebox. Matchbox is more reminiscent of an old-school diner in feeling than decor. High-back booths make each table feel as if they're in a space of their own — even at busy times. The restaurant boasts dark wood accents, cozy plaid fabrics and an uncluttered bar. Look up to check out the soaring ceiling featuring the original 130-year-old stamped tin, hidden for decades behind drop ceiling tiles. The staff is homegrown friendly and likely to know your name by your second visit.
Chaitin explains the restaurant concept as all-day breakfast meets Jewish deli meets bar to serve everyone from suits to soccer moms.
As such, the fare is approachable and the prices are fair. It's no Katz's Deli, but judging from Matchbox's initial sales, the arrival of 10-ounce hot pastrami sandwiches and Matzo Ball Soup to Grand Rapids is long overdue. There is an online ordering takeout service coming soon, so bookmark the website as your next quick-and-tasty lunch option.
The restaurant offers expected breakfast flavors as well as more metropolitan contrasts like the lox and bagel platter or chicken liver schmear. It's a savory progressive marriage that would only work at Matchbox – a bit like its delectable salmon and dill Havarti omelet. If you have a sweet tooth, you'll enjoy the baked crème brûlée French toast; it's more of a bread pudding than breakfast, but we're not judging.
Dinner service turns it up a notch, featuring comfort foods like shepherd's pie and seared salmon with potato latkes. Pair with a seasonal craft cocktail or a glass of vino and you're still only around $30 — an excellent price for the quality.
Weekend brunch and evening dinner are its busiest times, but Matchbox is seeing numbers pick up during the week as well — peaking at 300 to 400 covers a day. Chaitin is more than pleased with the success.
"We created Matchbox to be an extension of people's homes," said Chaitin. "People love coming here for the food and the experience — that's the magic."
There's also a subtle authentic quirkiness that you'll enjoy, like getting Swedish Fish candy with your check. It's a playful nod that doesn't overshadow how serious they are about food.
There's something to be said about a restaurant that tries too much. Often, it's negative — they try to be everything to everyone and in doing so fail at all of it. Matchbox Diner and Drinks is one of the few that successfully executes it all flawlessly, and it hasn't gone unnoticed by Grand Rapid's discerning eaters.
The pride that Chaitin has when talking about his new food baby makes Matchbox even more winsome because I can't help but feel it too.
*Photos courtesy of Matchbox Diner
Facebook Comments