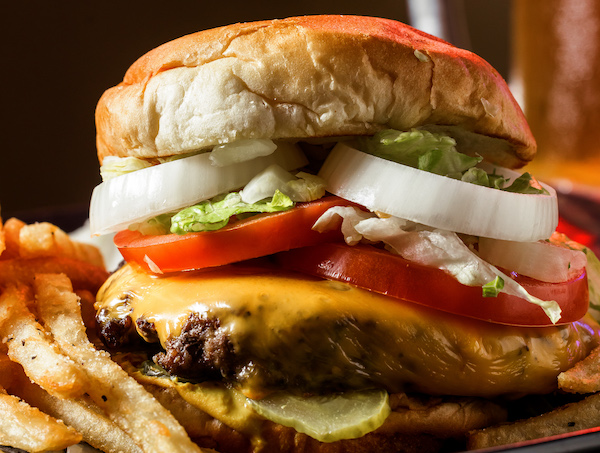 Your friend calls you up and says, "Hey, let's go to happy hour at Last Chance Tavern & Grill." You reply, "Where's that?"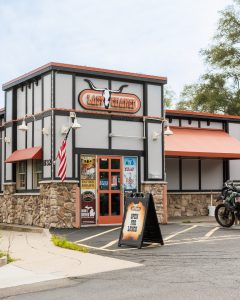 Your friend tells you it's on Burton, west of Kalamazoo Ave. near the railroad tracks. You trust your friend's judgment, so you get in your car. As you amble past Four Brothers Fish & Chips, Burton Village BBQ Co. and The Derby – dodging potholes along the way – you wonder to yourself why you agreed to this. Then, up on your right you see it. You immediately recognize it. You've driven past it before, wondering what goes on inside a country-looking bar in this part of town…are those steer horns above the door?  You pull into the newly paved parking lot. It's packed! And with nice cars! (Phew). There's a sleek, sparkly red Harley Davidson parked near the entrance. You squeeze into a space between a Mercedes convertible and a Porsche Cayenne. As you step out of your car you hear the thump, thump, thump of a bass that's way too loud. Again you're worried. Luckily, the music's coming from a car parked outside a nearby liquor store, not from the Last Chance Bar & Grill. Once inside you're greeted by Sarah, or Jeanine– two of the friendliest bartenders you'll ever encounter – and you're asked, "What'll it be?"
Whatever it is, they'll pour it good and strong. You can't go wrong with a Bombay Sapphire and a splash of tonic. But now you realize they have just about every craft beer your heart desires on tap. You change your mind and order a tall Oberon. You look around the place. It's spacious, homey. Looks like the same big, casual restaurant you'd find in any small town, which makes sense. Alger Heights is known for having a small-town look and feel.
"The bar opened in either '34 or '36, I'd have to check," said owner Dan Waterman, who purchased the place in early 2023. A small kitchen fire shut it down briefly in March, followed by a liquor license cock up that rendered it closed until Waterman officially took it over. By May, the bar was up and running again with all the old loyal clientele and a new coat of light gray paint. And a spruced up patio, too. 
When a new owner takes over an established business, there's a certain amount of care that needs to be taken to appease its longtime groupies. To that end, the favorites will remain on the menu, like the Garbage Burger, the Tavern Nachos and the Wet Burrito. But, a menu change is coming to The Chance. That's how the regulars affectionately refer to it.
"Chef Tom (Cornish) is working on the menu," said Waterman, who indicated that steaks and more elevated cuisine will be in The Chance's near future. Waterman has big plans for an outdoor area, as well. He owns Gippers, located at 2929 Kraft Ave SE, so he's no stranger to running a place where people know how to have a good time. An engineer by trade, he got into the restaurant business because his former boss tried to get him to move to China. He dug in his heels and did a 180 pivot. The regulars and staff at The Chance are glad he did! 
Facebook Comments