Today marks the start Grand Rapids Cocktail Week, produced by Experience Grand Rapids in partnership with more than 40 restaurants and bars. It runs Nov. 8-19, offering two Michigan-based cocktails and a shared plate for $25 or less.
In addition to the cocktail specials, this year's event is packed with other activities for the spirit-ually minded.
"Cocktail Week GR is entering its third year and continues to add more events and participating restaurants and distilleries," said Doug Small, CEO and president of Experience Grand Rapids. "This year we have more U.S. Bartenders Guild events, cocktail classes, distillery tours, participating locations, and the International Wine, Beer and Food Festival added the Hemingway Hall, an area where mixologists will showcase their finest cocktails."
While the city is known for its craft beer scene, Small says it has put Grand Rapids on the map for craft beverages as a whole.
While that means there are plenty of spots to enjoy your favorite adult beverage, it also makes it challenging to pick a place to go to – especially with new ones popping up every month.
To help narrow it down, we found some of the most interesting cocktails you should try this year. Forget your traditional Manhattans and martinis and toast to our city's cocktail celebration with a one-of-a-kind drink.
Cover Up at Long Road Distillers
If you love Long Road Distillers, then you're in luck. Not only can you stop in at their fantastic location for an expertly crafted drink – many of the restaurants in town (like 7 Monks or Butcher's Union) are using their spirits as well. Just in time for cold, blustery days, their Cover Up cocktail is exactly what you need to stay warm. It features their distilled bourbon, figs, brownulated sugar, licorice, kola nut, chicory and lemon. This cocktail will keep you warm and there's no charge for electricity. 537 Leonard St. NW, Grand Rapids
Dilltini at Blue Water Grill
Blue Water Grill, located in Grand Rapids' Northeast neighborhood is offering a dill-icious cocktail featuring Long Road Distillery's aquavit (a dill-spiced spirit). It's made with pickle juice, dry vermouth and a pickle spear. 5180 Northland Dr. NE, Grand Rapids
Headless Horseman at Hopcat
Not to be outdone by fall's favorite drink (the pumpkin spice latte), Hopcat is turning up the heat with the Headless Horseman, who they say is for all every "pumpkin spice candle burning, yoga pant wearing, latte sipper." This boozy fall beverage is concocted with pumpkin-spice-infused Old Forester bourbon whiskey, apple brandy, Michigan maple syrup and a few ounces of Saugatuck Brewing Company's smoky Bonfire Brown Ale. 25 Ionia Ave. SW, Grand Rapids
The Sour Old Man at Beir Distillery
Beir Distillery offers the best of both worlds – beer and spirits. This year they're mixing up The Sour Old Man with their own barrel-aged gin. Combined with lemon juice, panela simple syrup, frothy egg white and Angostura bitters, it's a better gin sour than you've ever had before. 5295 West River Dr. NE, #100, Comstock Park
Grand Rapids Fizz at New Hotel Mertens
New Hotel Mertens brasserie is a newcomer to Cocktail Week, as it just opened earlier this year. They're mixing up fizzy cocktails, like the Grand Rapids Fizz, made with lemon, sugar, gin, cherry, orange and cream. 35 Oaks St. SW, Grand Rapids
Four Founders at Wheelhouse Kitchen & Cocktails
If fruity beer is your beverage of choice, you'll love the Four Founders cocktail at Wheelhouse. It features Founder's Brewing Co.'s popular raspberry Rubaeus beer, as well as Four Roses bourbon, Averna, orange juice, demerara syrup and orange bitters. 67 Ottawa Ave. SW, Grand Rapids
Herb and Stave at Lumber Baron Bar
You probably haven't heard of Génépy des Alpes, an herbal liqueur made from the wormwood plant in the Savoy region of France – but after tasting the Lumber Baron Bar's Herb and Stave cocktail, you'll be smitten. Liberator gin and lime give this drink an aromatic attitude. 187 Monroe Ave. NW, Grand Rapids
Wagoneer at Gray Skies Distillery
Gray Skies' house distilled apple brandy is the star of the Wagoneer — a variation on the traditional gin-based Negroni. This slightly rye-spiced spirit is blended with sweet vermouth, walnut amaro and bitter peel liqueur. 700 Ottawa St., Grand Rapids
Scooby Snack at The Green Well Gastro Pub
You won't have to be a detective, paranormal-fighting Great Dane to enjoy this sweet treat. The Scooby Snack cocktail is made with peanut butter vodka, Ferris Coffee & Nut cold-pressed coffee, chocolate shavings and liquor-infused caramel whipped cream. 924 Cherry St. SE, Grand Rapids
Pear Cucumber Martini at Hemingway Lounge
Head to the Artesian Distillers' tasting room, the Hemingway Lounge, for this tasty pear cucumber martini, reminiscent of fleeting sunny days. Their smooth vodka is distilled six times and paired with pear nectar and muddled cucumber. 15 Ionia Ave. SW #100, Grand Rapids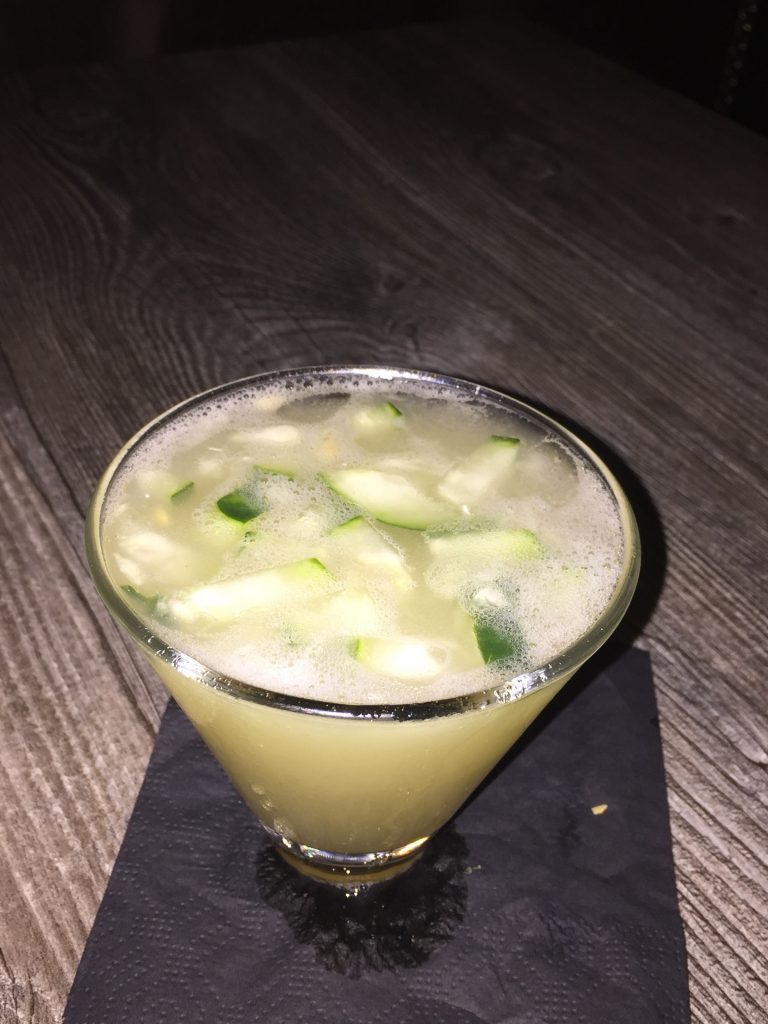 *Main photo courtesy of Long Road
Facebook Comments