A longtime Gaslight Village restaurant is in the midst of a transformation.
Olive's, located at 2162 Wealthy St SE, in the heart of East Grand Rapids, has announced it will unveil its redesigned space September 5. The scratch kitchen features a seasonally inspired and thoughtfully sourced menu, which promises unique and flavorful cuisine made with the freshest ingredients, many of which are locally sourced. The establishment also boasts a food-centric wine list and a wide variety of classic and modern cocktails to suit any palate.
"We are delighted to introduce our newly refreshed design to our cherished patrons," said Olive's owner Charlene Montpetit.
The renovation is being undertaken by Jean Stoffer Designs. Stoffer – along with her daughter Grace Start – operates a home decor store located at  714 Wealthy St. SE. The mother-daughter team are known for combining a unique mix of materials, textures and color, as well as for their expert application of interior detailing, scale and proportion; attributes that have helped propel the duo into the national design spotlight. The designers have their own TV show, "The Established Home,"  which airs on The Magnolia Network.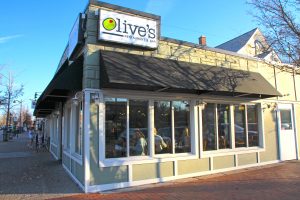 "This redesign represents our dedication to continuously elevating our offerings and providing an unparalleled dining experience. Jean and her team have put immense effort into crafting an environment that perfectly complements our culinary creations," Montpetit said.
According to an Olive's press release, the focal point of the redesign is the thoughtfully reimagined use of space, where meticulously curated lighting and ambient features create an inviting ambiance; a careful selection of colors, textures, and furnishings embodies the restaurant's commitment to excellence; and the layout has been optimized to provide a more spacious and intimate setting, ensuring each guest can enjoy their experience in comfort and style.
The redesigned space will combine timeless aesthetics with the restaurant's signature warmth and charm intended to reflect a harmonious blend of contemporary elements and ageless elegance and promises to enhance the overall dining experience. The aim is to create an atmosphere that seamlessly marries comfort and sophistication; the perfect backdrop for memorable meals and special occasions!
Learn more about Olives at www.eatatolives.com.
Facebook Comments