It isn't your imagination. Lakeshore blueberries really are hot stuff.
West and southwest Michigan boast a mix of conditions that make blueberry bushes flourish. It's partly the acid soil of wetlands and pine forests, blueberry bushes' favorite soil to grow in, explains Carlos Garcia-Salazar, the small fruit educator at the Michigan State University agriculture extension office in Ottawa County. It's partly the perfect spot the water table's in, just below the bushes' shallow roots. And as much as we love the lakeshore's sunny summer days, gloomy weather at other times is the final ingredient for healthy bushes and delicious berries. "Overcast skies typical of Michigan lakeshore are the perfect conditions to produce high quality berries," Garcia-Salazar said.
In Ottawa County alone, 6,100 acres are planted with blueberries on dozens of farms. Urban St. asked some of those farmers to share favorite recipes for our favorite fruit.
Amy Wysocki, part of the team at S. Kamphius Blueberries (skamphuisblueberries.com) on Holland's north side (now run by the fourth and fifth generations), chose her grandmother Carole McCluskey's every-summer recipe for a dessert that verges on blueberry cheesecake, but is easier.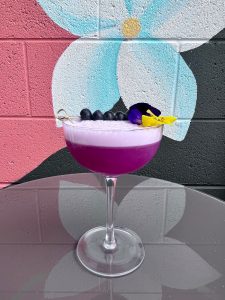 How do maple syrup in blueberry muffins sound? Pleasant Hill, an organic farm in Fennville (pleasanthillfarm.eatfromfarms.com), produces both berries and maple syrup, so Joan Donaldson combines them in her muffins — and now you can, too. She also shared her husband's family's fruit salad recipe that makes the most of Michigan peaches and blueberries. From Blue Star Farms (bsfblueberries.com), another grower in Fennville, there's cobbler they attest is the best. And Kim Neppel, proprietor of Coastal Society Cocktail Bar, Boutique and Eatery (coastalsociety.com) in Douglas shares a new blueberry cocktail recipe. So, let's get cooking.
Simple Summer Fruit Salad
Recipe courtesy of Joan Donaldson of Pleasant Hill Farm, Fennville
Ingredients
5 to 6 Michigan peaches, such as Red Havens, Lorings, Harmonies
1-pint blueberries
2 to 3 bananas, sliced
Step 1
Peel peaches. Chop a few so their juices can blend with the blueberries and bananas. Slice the rest.
Step 2
Toss the peaches with the rest. If the fruit salad will not be served for an hour or so, add a little lemon juice.
Blueberries in the Snow
Recipe courtesy of Amy Wysocki of S. Kamphius Blueberries in Holland
Ingredients
1 cup flour
1/2 cup margarine or butter (1 stick)
1/3 cup + 3 Tablespoons powdered sugar
1/2 cup chopped nuts
8 ounces cream cheese
1 Tablespoon milk
8-ounce tub of Cool Whip
4 to 5 cups blueberries
3/4 cup sugar
2 Tablespoons cornstarch
1 Tablespoon lemon juice
Step 1
Crust: In a bowl, mix flour, margarine, 3 Tablespoons of powdered sugar, and nuts. Press into an 8 x 11 pan. Bake 12 minutes at 350 F.  Cool.
Step 2
Blueberry topping: In a saucepan, combine 1 cup blueberries with the sugar, cornstarch and 1/4 cup of water. Bring to a boil and simmer 2 minutes. Stir in the lemon juice.
Then add the rest of the blueberries and stir. Cool.
Step 3
Filling: Mix or beat cream cheese, 1/3 cup powdered sugar and a Tablespoon of milk until smooth. Fold in the Cool Whip.
Step 4
Spread the filling in the cooled crust. Pour the cooled blueberry mixture over it. Refrigerate until it's time to serve it.
The Violet Beauregard Craft Cocktail
Recipe courtesy of Kim Neppel of Society Craft Cocktail Bar, Boutique & Eatery in Douglas   
Ingredients
Handful of fresh blueberries
1/2-ounce blueberry cocktail syrup (recipe below)
1-1/2 ounces gin
3/4 ounce lemon juice
1/2 ounce violet liqueur
3/4 ounce aquafaba (or 1 egg white)
Step 1
Place the blueberries and blueberry cocktail syrup in a chilled cocktail shaker. Muddle the berries at the bottom of the shaker.
Step 2
Add the remaining ingredients, then fill the shaker with ice. Shake vigorously for 10-12 seconds.
Step 3
Strain into a coupe cocktail glass, garnish with blueberries and edible flowers and enjoy!
Blueberry Cocktail Syrup
Ingredients
1 cup blueberries
1 cup sugar
1 cup water
Step 1
Bring the water to a boil. Add the sugar and berries, turn off the stove and let the mixture cool.
Step 2
Strain the syrup into a jar through cheesecloth, making sure all the berries are strained out. Store in refrigerator.
Small Batch Blueberry Muffins with Maple Syrup (makes 6)
Recipe courtesy of Joan Donaldson of Pleasant Hill Farm, Fennville
Ingredients
1 cup flour
1-1/2 teaspoons baking powder
1/4 teaspoon salt
4 Tablespoons melted butter or vegetable oil
4 Tablespoons maple syrup or brown sugar
1 egg
1/2 cup milk
1 cup blueberries
Step 1
Combine everything except the blueberries. When the batter is moist, add the berries and spoon into muffin cups.
Step 2
Bake at 350 F for about 20 minutes. Sometimes the muffins need 5 minutes more.
Facebook Comments