Fall is a season of enchantment, and Ludington, Michigan, offers the perfect backdrop for family adventures that will leave lasting memories. As the air turns crisp and leaves don their vibrant hues, the town comes alive with a plethora of family-friendly activities and attractions. Whether you're seeking outdoor adventures, creative exploration, or simply a cozy, autumnal escape, Ludington has something for everyone.
Ludington State Park: Nature's Playground
Ludington State Park is a year-round haven for families, and fall brings out its best. With miles of hiking and biking trails, this natural playground invites you to explore its breathtaking beauty. Keep an eye out for wildlife, and don't forget to visit Big Sable Point Lighthouse, where the fall colors create an unforgettable backdrop for family photos.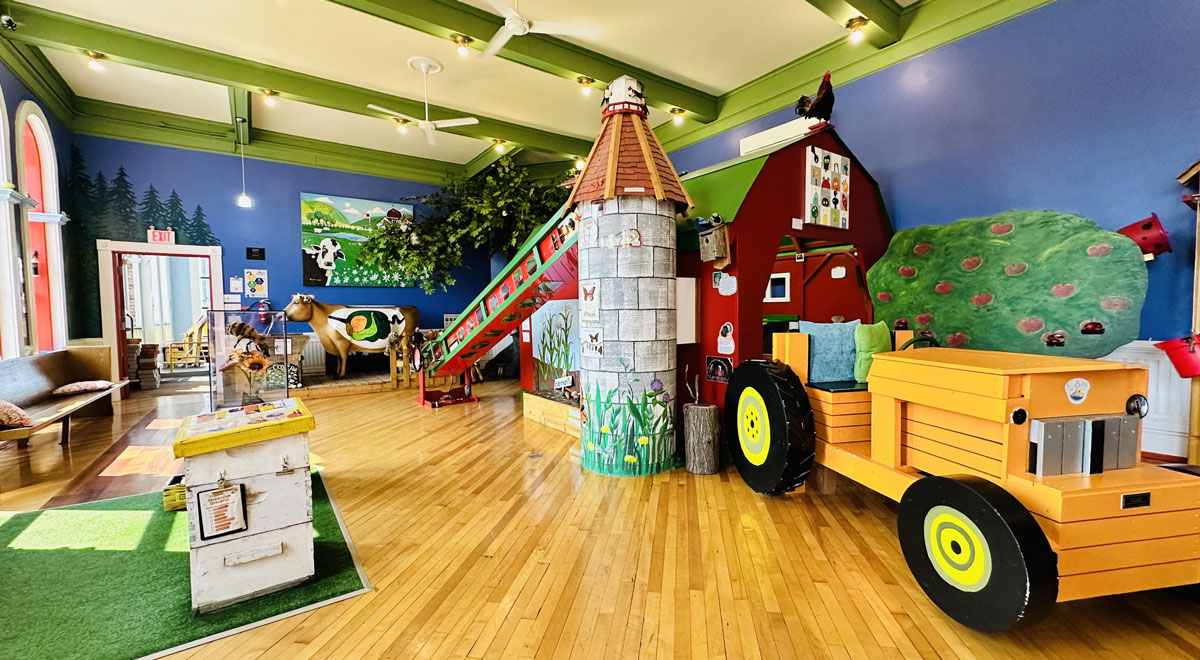 Sandcastles Children's Museum
For families seeking an interactive and educational experience, Sandcastles Children's Museum in Ludington is must see and do. This Ludington-inspired museum offers a hands-on and immersive environment where kids can explore, learn, and play. From science exhibits and art activities to a Badger play ship, airplane, and ice cream shop, Sandcastles Children's Museum is a must-visit destination for families looking to add a touch of educational fun to their Ludington fall vacation
Fall Camping
Extend your family adventure by camping in Ludington State Park or one of the area's campgrounds. The crisp fall nights are perfect for roasting marshmallows around the campfire and sharing stories under the starry skies.
Visit Lewis Adventure Farm and Zoo
No family-friendly fall adventure in Ludington would be complete without a short drive to nearby Lewis Adventure Farm and Zoo. This sprawling farm is an absolute gem for families, offering an array of seasonal activities. Get lost in the farm's challenging corn maze, which takes on an enchanting quality amidst the autumnal backdrop. Kids can enjoy pony rides, petting zoos, and pumpkin cannon demonstrations. The zoo section of the farm is a real treat, with exotic animals and friendly farm animals to meet. It's an educational and entertaining experience that the whole family will love.
Apple Picking
For an authentic autumn experience, don't miss out on apple picking at places like Christofferson Farms during your Ludington adventure. This charming, family-owned orchard provides the perfect setting for apple harvesting, where you can wander through rows of apple-laden trees and pluck the ripest, juiciest fruit straight from the branches. It's an enchanting opportunity for families to connect, savor the crisp fall air, and fill their baskets with the season's bounty. Whether you plan to bake homemade pies or simply enjoy the apples as a healthy snack, apple picking is a wholesome and delightful outing for everyone.
Halloween Fun
If your visit falls close to Halloween, Ludington offers a wealth of spooky-inspired fun for families. Check out local haunted houses, participate in costume contests, or explore themed events in the area. Ludington's charming downtown hosts trick-or-treating, a beloved tradition, with local shops opening their doors to provide a safe and welcoming environment for little ghosts and goblins to collect their treats.
For those looking to burn off some candy calories and engage in some friendly competition, the Halloween Family Fun Run/Walk is one-mile is a fantastic option. This spirited event encourages participants to flaunt their Halloween costumes while enjoying an active 1 mile walk or run at Cartier Park Path.
A season of value for families
Fall in Ludington is a time when family bonds grow stronger amidst the changing colors of the season. From hayrides and pumpkin patches to exploring the changing landscape, Ludington offers a treasure trove of family-friendly fall activities. Take advantage of their seasonal lodging special, offering guests 50% off a second night stay at participating lodging properties. Start planning your family's getaway to Pure Ludington this fall at PureLudington.com/autumn.
Facebook Comments