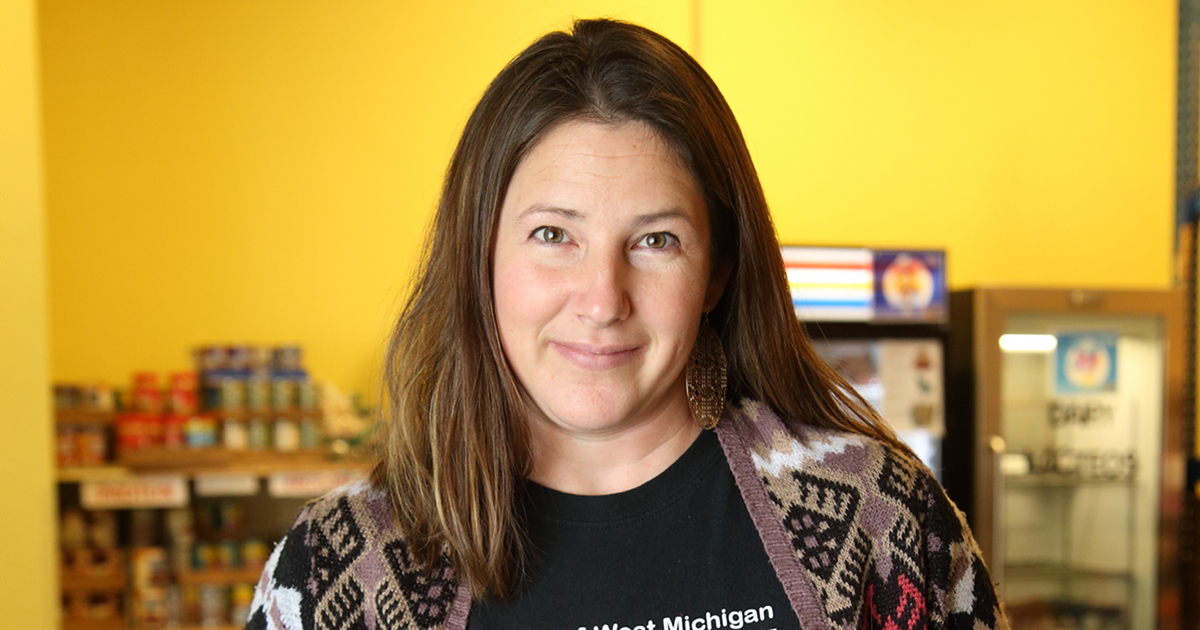 This article is from the April 2019 Grand Rapids Magazine. Available on newsstands now or via subscription.
Access of West Michigan is an umbrella organization whose mandate is to develop and strengthen holistic solutions to poverty. The 37-year-old nonprofit does so via education and collaboration in three main ways: Good Food Systems, Congregation Connections and Poverty Education. Good Food Systems is its biggest growth area lately and the focus of much thought, planning and training.
"We've studied a lot of work on food systems from across the nation and thought about what it could look like in our community and how we can align with best practices," Access co-director Emma Garcia said. "We aren't saying our food systems are bad; we're saying food systems can be reimagined."
Access of West Michigan is what Garcia and co-director Christina Swiney call "thought leaders in terms of food systems."
"We became alarmed about five years ago when we found our community was defining success based on how many pounds of food we distributed to how many people," Garcia said. "But we want fewer people receiving food and fewer pantries, right? We realized that we weren't moving in the direction of creatively looking at food systems."
The Michigan Good Food Charter was created in 2010 as a map regarding food systems and access to good food that is fair, healthy, green and affordable. It outlined six goals that Access took as its directive, as well.
"We realized a lot of our Access programming around food was centered on the old paradigm," Garcia said. "We realized there is a lot of good work going on that defined the problem differently and approached solutions creatively."
Access is helping its partners rethink traditional food assistance work done by churches and organizations, and shifted into operating with partners who are making changes, including United Church Outreach Ministry, SECOM, The Other Way Ministries, The Pantry and North Kent Connect in Rockford.
The old paradigm: Collecting food via food drives that request nonperishable items, which are often filled with salt, fat, chemicals and sugar. Collecting cash donations to buy more of the same. Getting leftover food from corporations that is often filled with preservatives, sugar and salt. Assuming that any food is good food and that those with food needs should be happy with whatever they get.
The new paradigm: Opening affordable retail farm markets with produce sourced from Michigan farms. Asking for cash donations to purchase shares in Community Supported Agriculture farms, with produce then given away at pantries. Asking those who use a local food pantry what they would like to see available. Asking donors to give different kinds of food.
"But many food assistance sites weren't ready to change or didn't get what we were doing," Swiney said. "It's hard to see what is beyond the right now, to see something different from what they've experienced for both the pantries and the neighbors they help. It's hard to ask neighbors to dream about things they've never seen."
Yet, Access is making headway. The five partner sites operate retail farm markets with help from a $350,000 grant from Heart of West Michigan United Way. Each partner receives funding to operate the markets and partner with area farms to get fresh food. Access invests funding into local farms that provide fresh food to pantries. More stakeholders are becoming involved with new ways of thinking about food systems.
Garcia doesn't see hunger as the problem — food is available to those who need it. It's getting good food to those same people that can lead to better health in the long run and can build different kinds of relationships with those who give it. Instead of a food pantry as the way to build relationships, what about a community garden or a community dinner?
"We're willing to help institutions learn new ways to do things," Swiney said.
NOW
One of the programs offered under Good Food Systems is NOW (Nutritional Options for Wellness Program), which works with people who have Type 2 diabetes, chronic renal failure or cardiovascular disease.
"We made a change from looking at different diets to asking how we can help people have an overall healthy lifestyle," program coordinator McKenzie Jackson said.
For one year, NOW can serve close to 100 people experiencing low income in Kent County. It starts by looking at food choices such as getting rid of processed foods and meats and then moving to things like exercise and building a support system. Referrals come from health care providers.
"We look at the social determinants of health but also the barriers that come with that such as lack of transportation," Jackson said. "If someone can't get to the doctor or access healthy food, how are they supposed to change their health outcomes?"
Congregation Connections
Access of West Michigan helps through Congregation Connections, which provides free casework services, facilitates training and offers workshops to help churches develop healthy outreach plans and build relationships.
Coordinator Nikeyia Perkins works with about 100 churches per month (about 400 are in the database from 17 different denominations) in a variety of ways. A church may ask Access about a person requesting benevolence; may pay rent for a person in need with earmarked funds, then bill the church that made the request; and may encourage neighboring churches to band together to meet needs better.
"With the cost of housing and utilities, we're in a high-need season, and I don't see that changing any time soon," Perkins said. "The biggest issue for churches is the struggle to know what to do and to do it well. It's going to take all of us to do this work."
Congregation Connections distributed more than $300,000 to meet community needs and served almost 2,000 families in 2017-18.
Poverty Education
 The Access Poverty Education Initiative facilitates workshops to help organizations, churches, schools and businesses understand the root causes of poverty and the barriers to breaking out of poverty. Thousands have gone through the program, primarily via poverty simulations that have participants assume a new identity and role-play the lives of a family experiencing low income that must maintain housing, pay bills, provide food and care for their families.
Food continues to be a primary push for Access of West Michigan. It's a complicated issue, said Erin Skidmore, Good Food Systems coordinator.
"To address the food access needs in our community, we have to think about policy, transportation, schools, etc. There is a lot that goes into what makes a food system," she said. "There are a lot of gaps in Kent County in our perceptions of what good food is and what it means. We need to remember that food is precious, important and to be celebrated but not to be taken for granted. Food is a beautiful opportunity to connect with each other and the land."
Wish List
Access of West Michigan encourages people to:
Educate themselves on food systems via books such as "Big Hunger: The Unholy Alliance between Corporate America and Anti-Hunger Groups" and "Toxic Charity: How Churches and Charities Hurt Those They Help (And How to Reverse It)."
Donate to Access of West Michigan.
Host or attend a Poverty Education workshop. For more information, visit accessofwestmichigan.org.
Think about impact vs. intent. Good intentions don't always equal good impact. "Dream with us, rethink with us. We want a thriving and vibrant community, a community where everyone can have access," co-director Emma Garcia said.
Participate in the Walk for Good Food on May 5. Visit the Access of West Michigan website for more details.
Photo: Co-Executive Director of Access West Michigan Christina Swiney. By Johnny Quirin.
Facebook Comments