From lost shoes to old family photos to Madonna memorabilia, the Kendall College of Art and Design (KCAD) community is made up of many individuals with unique collections, which are now on display as part of the new "Focus on KCAD | Collections" exhibition.
The exhibition showcases a variety of collections belonging to students, faculty and staff, displaying curiously quirky items and reflecting personal identity in intriguing ways.
The idea for this exhibition came from Susan Stewart's book, "On Longing," which serves as an analysis of collections big and small and explores the narratives of objects as well as their meaning. Michele Bosak, curator of exhibitions at KCAD, wanted to explore the various meanings that collections convey, especially when on display.
"A person's collection is a facet of their identity and there's a certain element of collective memory that is reflected and can be assumed or validated by viewers," Bosak said.
Bosak herself is a collector, and a portion of her collection of chairs is represented in the exhibition. She started her collection about 10 years ago while living near Chicago for graduate school.
"It was a need for retail therapy and an interest in mid-century modern design that first inspired my chair collection," Bosak said. "I've always enjoyed entertaining, but I couldn't do that in the small space I lived in when I was in grad school. While I started buying chairs as a means to fill a void, I'd also document my purchase and research the design and history before putting the item in storage. Chairs combine form and function in a way that is very challenging for designers to perfect."
In addition to chairs, "Focus on KCAD | Collections" boasts a variety of other unique items. From vinyl records to souvenir pens to three different doll collections, the exhibition shows how collections can share common threads while also being distinct.
One of the collections that intrigued Bosak the most belongs to Adam Wetherell, head of human resources at KCAD. He's a Madonna fanatic, and just a portion of his accumulation of magazines, photos, posters, t-shirts and various other objects is on display.
"I didn't really understand the scope of Adam's collection when he first described it," Bosak said. "It has an impressive density, and it's been interesting for him to see it all together rather than compartmentalized in different places in his house. Having the pieces on display has created a timeline not only of Madonna's vast career, but also shows the impact it's had on Adam's life and experiences."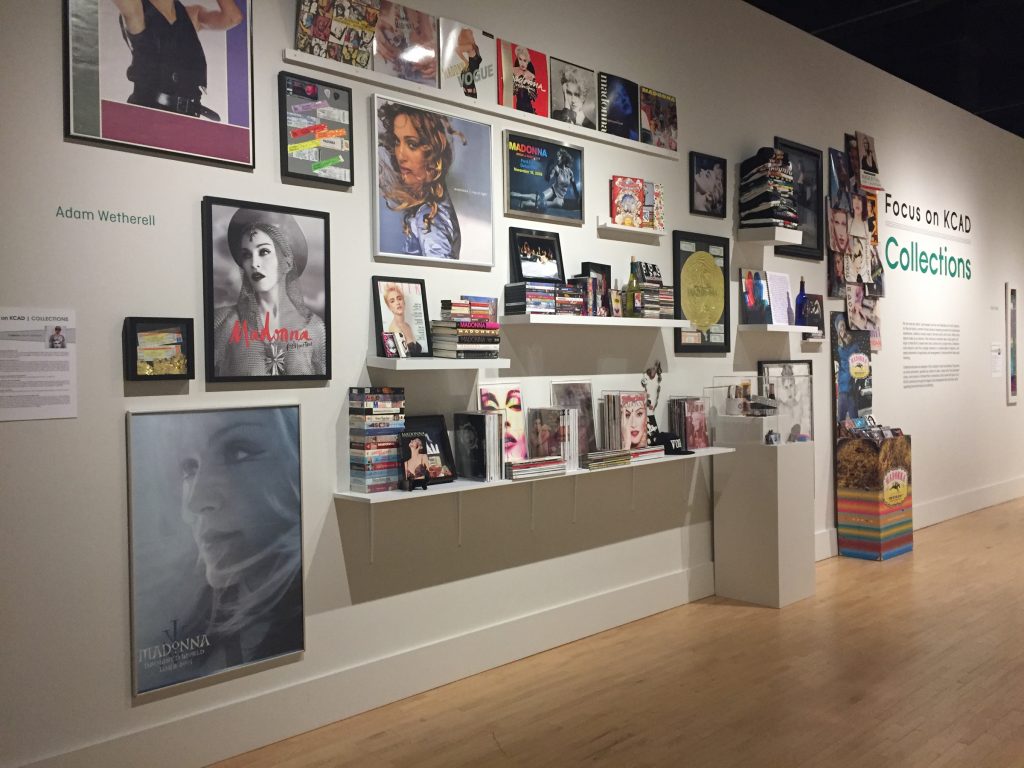 For KCAD, the display of collections also serves as a social connector.
"Ours is a relatively small campus, and you may recognize people but not really know much about them. This exhibition helps people get to know the faces they see in the hallways and around campus," Bosak said.
To be a part of this exhibition, would-be participants submitted a photo and a description of their collections in response to a call put out in the college's newsletter in December. As Bosak began to narrow down the prospects and start forming the displays, she became more aware of the breadth of the collections.
"I typically have full documentation of all the objects that we will display for an exhibition," Bosak said. "It was a little different this time because not everyone had photographs of their collection on hand. It wasn't until the participants dropped off their items that I could visually gauge the extent of how everything would fit together."
The intimate and personal nature of this exhibition has helped attract more viewers. The opening reception on Feb. 20 had a great turnout, and Bosak enjoys seeing the way that the KCAD community has come together through this exhibition.
"It's exciting to see such a good cross-section of our campus represented and attending this exhibition," Bosak said. "When people are invested in something they're passionate about, they have an inclination to share it with others. I think that people are genuinely interested in connecting and engaging with one another."
"Focus on KCAD | Collections" is on display at the Fed Galleries through April 7, along with "Focus on KCAD | Sabbaticals," which features work by five tenured faculty members. Both exhibitions are free and open to the public.
Facebook Comments