The following post is sponsored by the Ludington Area Convention & Visitors Bureau.
Less than two hours north of Grand Rapids and offering both a bustling downtown and miles and miles of preserved natural areas (including 28 miles of Lake Michigan shoreline), Ludington makes the perfect quick getaway for families, couples or a group of friends.
While the summer months of July and August might seem like the more obvious times to plan your visit, trips in May and June offer a few advantages – you can take advantage of great deals on lodging and shorter waits at area restaurants, for one. There are also a plethora of activities to choose from to keep you busy during these months and you'll be able to get those killer Instagram pics without having an accidental photo bomber wander into your shot.
"Ludington is a quintessential Michigan beach town offering a perfect balance of quaint downtown atmosphere with spectacular woods and water natural resources, highlighted by Lake Michigan," said Brandy Henderson, executive director of the Ludington Area Visitor & Convention Bureau. "And a spring visit means you get more of these special places to yourself."
To help you plan your visit and make the most of your weekend, we've compiled the perfect itineraries to fit a variety of vacationers' needs.
Family Vacation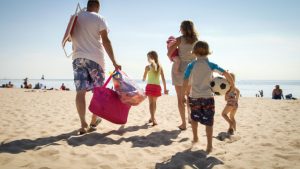 Plan your family trip for June 9 & 10 and take advantage of Love Ludington Weekend, which is when Ludington officially celebrates the kick off of the summer season. Love Ludington is chock full of events and activities, including the Lakestride Half Marathon 10K and 5K and this year's planned Guinness World Record attempt for the longest single line of bicycles.
Whenever you visit, be sure to take the kids to Cops & Doughnuts McDonald's Precinct for breakfast. Founded in Clare, Michigan by nine police officers, this latest "precinct" is housed in the historic McDonald's Bakery, in operation since 1898. Be sure to try the Bacon Squealer and Felony Fritter doughnuts.
When it's time for dinner head to The Q Smokehouse for locally sourced barbecue. Diners select a dry rubbed and smoked meat (smoked chicken, pork loin ribs, beef brisket or chopped pork, all smoked over locally sourced cherry wood) along with made-from-scratch Southern sides. Stop at House of Flavors afterward and split the Pig's Dinner, a delicious sundae served in a wooden trough.
Activities abound for families, but a few that we recommend are visits to the Sandcastle Children's Museum for hands-on fun, and a stop at Waterfront Sculpture Park, where your kids can enjoy the playground and catch the S.S. Badger returning or departing from Ludington. This is also a great spot for picnics.
Make it educational and visit the new Port of Ludington Maritime Museum, transformed from the former U.S. Coast Guard Station. Permanent and changing exhibits offer rare glimpses into the past of the maritime industries that shaped the region. A favorite exhibit for kids and adults alike is the replica pilothouse of the Pere Marquette 22.
Nader's Motel & Suites is the perfect place for your family to unwind at the end of the day.
Romantic Escape
Planning a romantic getaway for you and your partner? Visit Ludington anytime after May 7 and enjoy a visit to Big Sable Point Lighthouse. Climb to the top of the iconic black and white striped lighthouse, located within the Ludington State Park, and enjoy the view. Plan your visit May 25 or later and you can also enjoy Ludington North Breakwater Lighthouse, located at Stearns Park Beach.
During your visit, savor a romantic meal at PM Steamers, one of the city's longstanding dining establishments, featuring a seasonally changing menu using locally sourced meat and produce – all with a view of Ludington's harbor. Or, head to new dining entrant Table 14, a cozy upscale bistro with an eclectic and seasonal menu with a southern twist.
If you want to enjoy the sunset with your sweetie, and claim a private section of beach, head anywhere along the seven-mile stretch of M-116 toward Ludington State Park. Don't forget to stop in at Love Wines for a quick tasting and then take your favorite bottle along with you.
Another great time to plan your romantic rendezvous is June 3, when you can take the Vintage 65th Anniversary Shoreline Cruise on the S.S. Badger. The night will include original menu items, 1950s rock and big band tunes, original staff uniforms, 1953 trivia, and more. Attendees are encouraged to dress in '50s vintage attire.
Looking for a romantic place to stay, try Ludington House B&B.
Ladies' Getaway
Start your ladies' weekend getaway early and catch Ludington's Sunset Beach Bonfires (taking place on June 28, July 26 and August 23). From 8 p.m. to 10 p.m., bring your beach chairs and blankets to Stearns Park Beach to enjoy a true "Up North" evening that includes a bonfire, music, and of course a stunning sunset.
Spend Friday exploring the community's many local retail shops, including Nautical Yarn, which is a must for crafters, and Todd & Brad Photography to grab the perfect piece of artwork to remember your visit by.
Go casual for dinner and choose from Jamesport Brewing Company or Ludington Bay Brewing for an exceptional craft beer and yummy meal, followed by a post-dinner drink at Mitten Bar.
Your weekend wouldn't be complete without a day at the beach. Stock up on goodies at specialty grocer Biercamp Market before heading out to Ludington State Park Beach, perfect for beach walks and picnicking, or Hamlin Lake Beach, where you and your girlfriends can rent canoes, kayaks or tubes from the concession stand for use at the beach or to take down the lazy Sable River.
Retreat at the end of the day to Summer's Inn.
*All photos courtesy of the Ludington Area CVB
Facebook Comments