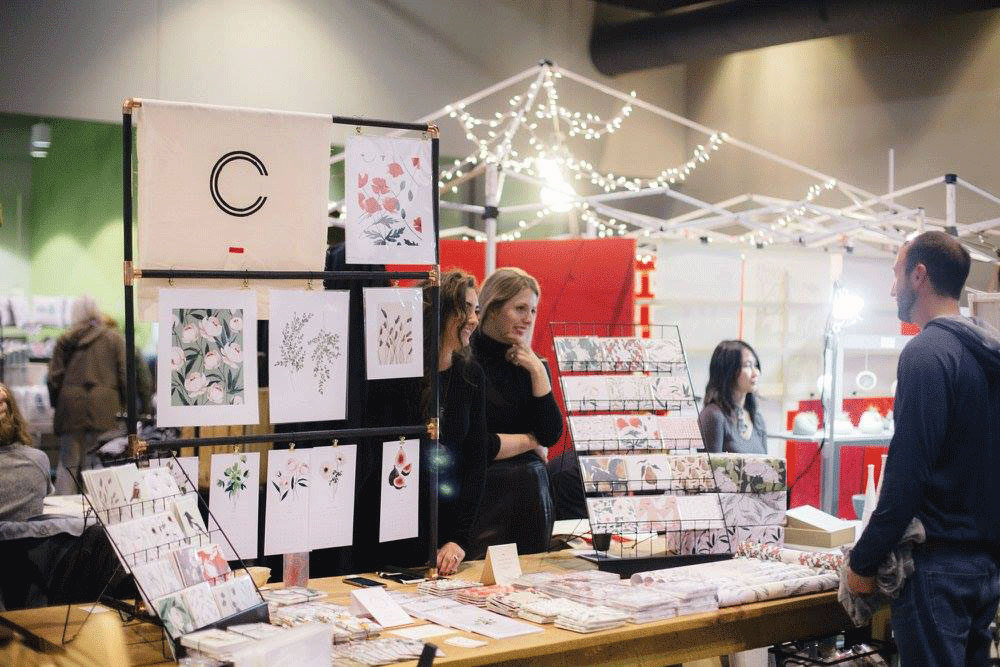 Whether you're shopping early or waiting until the last minute, you'll be able to knock out that Christmas list with unique, locally crafted gifts from these six holiday artists markets.
LowellArts Holiday Artists Market
Nov. 6 – Dec. 23
Find artwork by over 50 area artists at the LowellArts Gallery, at 223 West Main Street in Lowell, during the Holiday Artists Market.
Items include pottery, paintings, photography, jewelry, textiles, felting, glass work, handbags, woodwork, sculpture, metalwork, wreaths, ornaments, soaps, mittens, scarves and more.
The market is open from Nov. 6 through Dec. 23. The hours are Tuesday through Saturday 10 a.m. – 6 p.m., and Sunday from noon – 5 p.m. Find out more here.
Golden Age Artists Market
Saturday, Nov. 24
Support Small Business Saturday by stopping in at Golden Age, the event space located above Creston Brewery, where you'll find a selection of local artists selling their wares.
While you shop, enjoy entertainment by local open mic artists who will be performing throughout the day.
This event takes place from 11 a.m. to 7 p.m. at 1504 Plainfield Ave. NE. Find out more here.
UICA Holiday Artists Market
Saturday, Dec. 1
Visit the UICA's 30th Annual Holiday Artists Market on Saturday, Dec. 1 and stock up on unique gifts by dozens of regional artists. You'll find something for everyone on your list. Items include jewelry, home goods, fine art, holiday cards, accessories and toys.
This annual event also includes live music and local food and beverage vendors while you shop for handmade gifts.
The UICA Holiday Artists Market is held from 10 a.m. to 5 p.m. at Steelcase Town Hall, at 901 44th St. SE. Admission and parking are free. Find more information and a list of vendors at the UICA website.
342 Artists' Holiday Market on Market
Sunday, Dec. 2
Over a dozen local artists, from painters to photographers to potters and more will have their goods available on Sunday, Dec. 2 at 342 Market Ave. SW on the building's second floor.
The market will be open from 1 p.m. to 4 p.m. Many of the artists will have Square to take credit cards, but it's a good idea to come with cash for those that don't.
Pop-Up Shop at LaFontsee Galleries
Saturday, Dec. 8
LaFontsee Galleries is hosting a pop-up shop with six of its artists on Saturday, Dec. 8. The artists will be bringing pieces not normally available at the gallery. You'll find jewelry, woodwork and fiber artwork. Pop-up artists include Jennifer Surine, Sue VanDame, Christine Bruno (Town Hall Studio), Lynne Tan, Bill Hillbrandt (Into the Wood), and Dana Albrecht (Sacred Fiber Arts).
There will also be artists' demos by four additional LaFontsee Gallery artists who will create work before your eyes.
Find out more here.
Last Chance Holiday Art Market @ Pyramid Scheme
Sunday, Dec. 23
If you've waited until the last minute to complete your holiday shopping, don't fret, the Pyramid Scheme is hosting its Last Chance Holiday Art Market on Sunday, Dec. 23 from 4 p.m. to 8 p.m.
Over 35 local artists will have work for sale in the front bar and venue area during the event.
*Photo courtesy of UICA
Facebook Comments