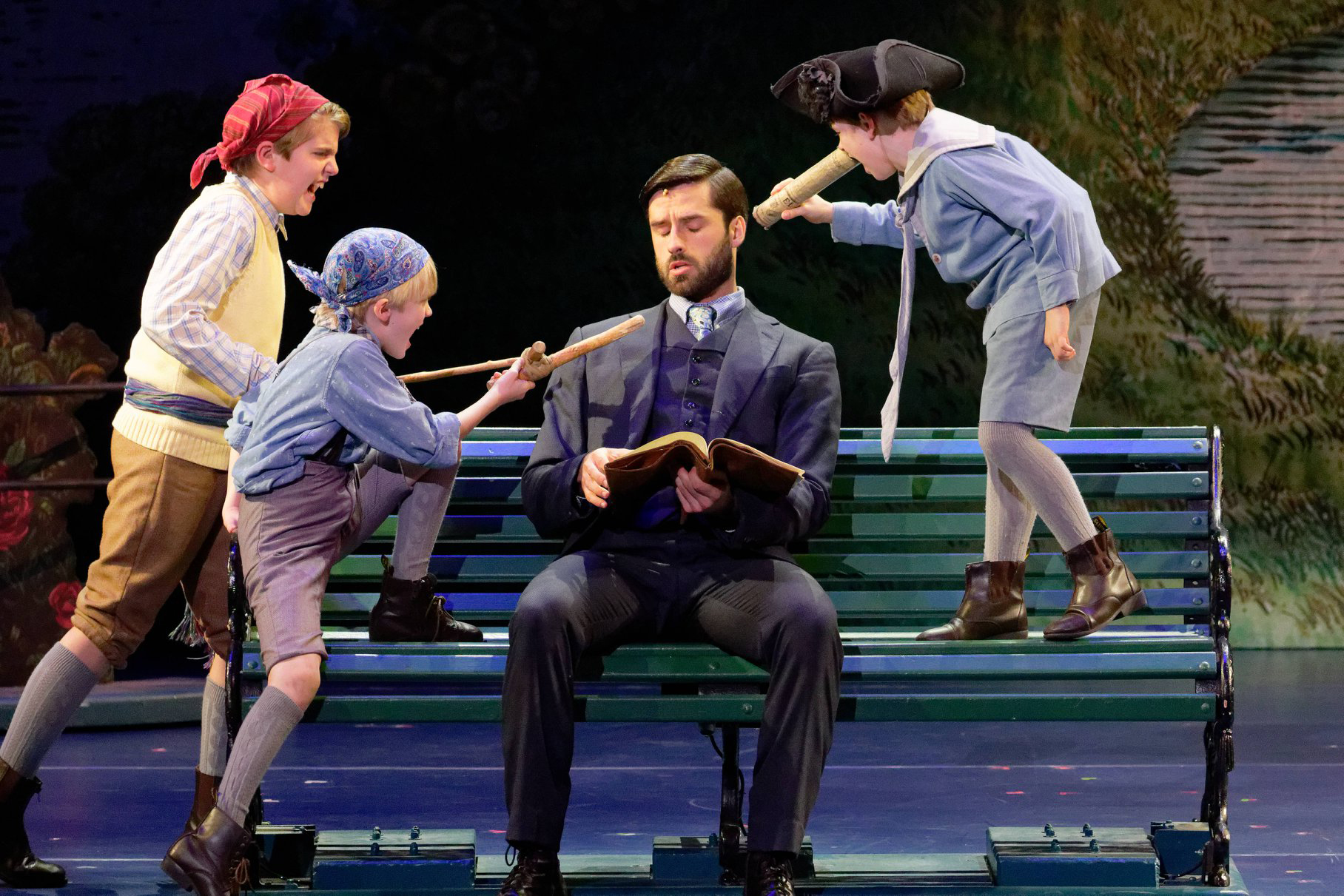 Editors Note: Spoilers ahead.
A tale with its head in the clouds and feet on the ground, the musical comedy "Finding Neverland," is bringing magic and whimsy straight from Neverland to the 13th year of Broadway Grand Rapids.
The show stars Jeff Sullivan as J.M. (James) Barrie, a playwright with a quickly approaching deadline and a complete lack of inspiration. This all changes on a sunny day in Kensington Gardens when James abruptly collides with a game of pirates being played by three little boys: George (Paul Schoeller), Jack (Josiah Smothers) and Michael (Brody Brett). He joins in on the fun and becomes fast friends with the boys and their mother; the beautiful widow, Sylvia Llewelyn Davies (Ruby Gibbs). When James notices a fourth boy off to the side, Sylvia explains: her son, Peter (played by Seth Erdley), has not played pretend with his brothers in a long time.
Eventually, Peter warms up to James's goofiness and rediscovers the magic of using his imagination. The family and the writer meet at Kensington Gardens most days until rumors start to fly, causing problems in James's marriage. But, he feels that he is more himself than he's been in years and shirks public opinion.
Fed up with his juvenile behavior, his wife (Ashley Elder) leaves him. Then his long-time friend and producer, Charles Frohman (Connor McGiffin), dismisses James's pet project for being too immature. To top off the extremely unfortunate situation, Sylvia falls ill, leaving her mother, Mrs. du Maurier (Emmanuelle Zeesman)—who does not approve of James's "irrational, childish behavior" in the slightest—to keep him at a distance.
Though it seems all doors have been closed for him, James is still inspired by the imaginative habits of his new friends, and he continues writing his show anyway—"Peter Pan." Desperate to keep his business afloat, Frohman reluctantly agrees to put it into production.
When opening night arrives, Frohman is close to a heart attack and the actors are tense, thinking this show will be the end of their careers. James, though, is practically skipping as he goes to pick up Sylvia and the boys. When he arrives, he finds that she is too sick to leave the house. After the premiere, he and Peter convince the actors to bring the show to the house, where he enjoys the performance with the family that inspired him.
"Finding Neverland" is a musical about being able to see magic in the world, despite what others think or what bad things come to pass. The show's lightheartedness is juxtaposed with adversity, but overall is a hopeful display of love, creativity and the importance of play.
Sullivan captivates as the charming J.M. Barrie, his voice low and beautiful; however, there were times it was either too soft to reach the mezzanine or got lost under the accompaniment. Despite that, he excelled in his portrayal of a man struggling between his past life in proper society and the release imagination provides from stuffy dinner parties.
Gibbs and the boys feel like a real family; a family struggling after having gone through all of the suffering and turmoil of losing a father and husband. An extremely talented group of actors, the boys often stole the show with well-told jokes and brilliant vocals.
"Finding Neverland" is an excellent show with flowing, whimsical music and encouragement to foster and get lost in your imagination regardless of your age. And even if you walk out of the theater not believing in fairies again—a near impossible task, no doubt—you would have to agree that this show confirms one thing: "Theater is for everyone—the young and the young at heart."
Performances run through Sunday, Oct. 14. Tickets start at $38 and can be purchased at Broadway Grand Rapids. All performances take place at DeVos Performance Hall.
*Main photo courtesy of Broadway Grand Rapids
Facebook Comments