ArtPrize has drawn the curtains on a spectacular 18 days of art exhibitions and activations. Concluding with a closing ceremony at Rosa Parks Circle, ArtPrize distributed $400,000 in prize money across juried awards, "visibility" awards and public vote for which more than 50,000 votes were cast.
Founded in 2009, ArtPrize revamped this year as a collaboration between the City of Grand Rapids, Downtown Grand Rapids, Inc. and Kendall College of Art and Design of Ferris State University. The 950 participating artists represented 12 countries and 30 states, exhibiting captivating artwork of various mediums, including: photography, painting, sculpture, ceramics, and beaded embroidery. More than 150 local venues debuted artwork, from public parks to bars and restaurants, transforming Grand Rapids into a living canvas.
"ArtPrize offers a unique opportunity to unite artists from around the world and engage with the public to witness, interact and vote upon spectacular works of art. As we wrap up this exceptional year, we're setting the stage for a lasting legacy that will continue to inspire," remarks Catlin Whitington, ArtPrize's executive director. "The competition was fierce this year, and it was an honor to offer each of our 950 participating artists a platform in Grand Rapids to showcase their creativity throughout our beautiful city."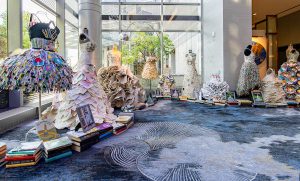 With the public vote open to all ArtPrize attendees (ages 13 and up), the competition awarded the following artists:
First Place for $125,000: Abdoulaye Conde's "Raining Wisdom" mural located at 45 Ottawa Ave. SW.
Second Place for $50,000: Rebecca Humes' "Tale of Ten Dresses" on display at JW Marriott Grand Rapids
Third Place for $25,000: Peggy Slattery's "An Iris Collection of 5" on display at Amway Grand Plaza
A hand-picked committee comprised of esteemed members – Jonathan Levine, Josh Solas, Coka Trevino, Briana Yarhouse and Rachel Winter – evaluated the Juried Competition based on strict criteria to honor artists who exemplify excellence in their respective mediums, with a second artist from each category recognized as Honorable Mention. Each awarded $20,000, first place winners by category included:
2D: Stephen Brennan's "Mandy with Orchid" on display at Gerald R. Ford Presidential Museum
3D: Kumkum Fernando's "The Lost Mystics" on display at ArtPrize ClubHouse
Digital: Eric Souther and Benjamin Rosenthal's "Body-oddy-oddy-oddy: Destabilizing the Surveilling of Queer Bodies" on display at ArtPrize ClubHouse
Time-Based: Aryel Jackson's "The Future is a Constant Wake" on display at Kendall College of Art and Design of Ferris State University
Installation (tied): DisArt's "The Art of Disruption" and Whitney Pyles' "The Zone of Authenticity" *The prize will be evenly distributed to both declared winners at $10,000 each
New for 2023, ArtPrize introduced the Visibility Awards to support contemporary artists from underrepresented communities and uplift diverse perspectives. Presented by MillerKnoll, each honoree was awarded a well-deserved prize of $15,000:
Vanguard Award for Contemporary Black Artists, presented by LMCU: Maya James' "#NoMoreStolenSist(a)s" on display at Zabház
Originators Award for Contemporary Indigenous Artists, presented by Gun Lake Casino and Gun Lake Investments: Juan Pimentel's "SERENITY" on display at Harmony Brewing Company
Horizontes Award for Contemporary Latino Artists: Salvador Jimenez-Flores' "Caminantes / Wayfarers" on display at ArtPrize Oasis
Crossroads Award for Contemporary Asian Artists: Minyoung Kwak's "Isa(Moving)" on display at Monroe Community Church
Prism Award for Contemporary Queer Artists: Christopher Shields' "Technophobia'" on display at The Morton
ArtPrize 2023 delivered a dynamic roster of daily events that left attendees buzzing with excitement, from block parties and immersive artist workshops to live music performances from the Grand Rapids Symphony and the experimental sensation Squonk Opera. Marquis moments included the groundbreaking Art of Disruption exhibition presented by DisArt, which explored the powerful intersection of race and disability activism; the Merchants and Makers Artisan Market, where artists sold their hand-crafted work; and Curb Appeal, a thrilling celebration of custom car culture. ArtPrize's central gathering point, the ArtPrize ClubHouse, hosted curated art exhibitions, daily programming, panel discussions, and youth educational activities. Meanwhile, the ArtPrize Oasis, presented by Corewell Health and Priority Health, offered a playful outdoor space along the Grand River for the public and artists to engage with art.
With more than a million people visiting Downtown Grand Rapids and experiencing this year's ArtPrize, the beloved multi-day event returns in 2024, continuing its mission to showcase world-class talent in the heart of the city. During the closing ceremony, ArtPrize announced next year's dates: September 13-28, 2024, promising continued celebrations of art, inspiration, and connection.
For more information on this year's winners and ArtPrize 2024, please visit ArtPrize.org.
Facebook Comments