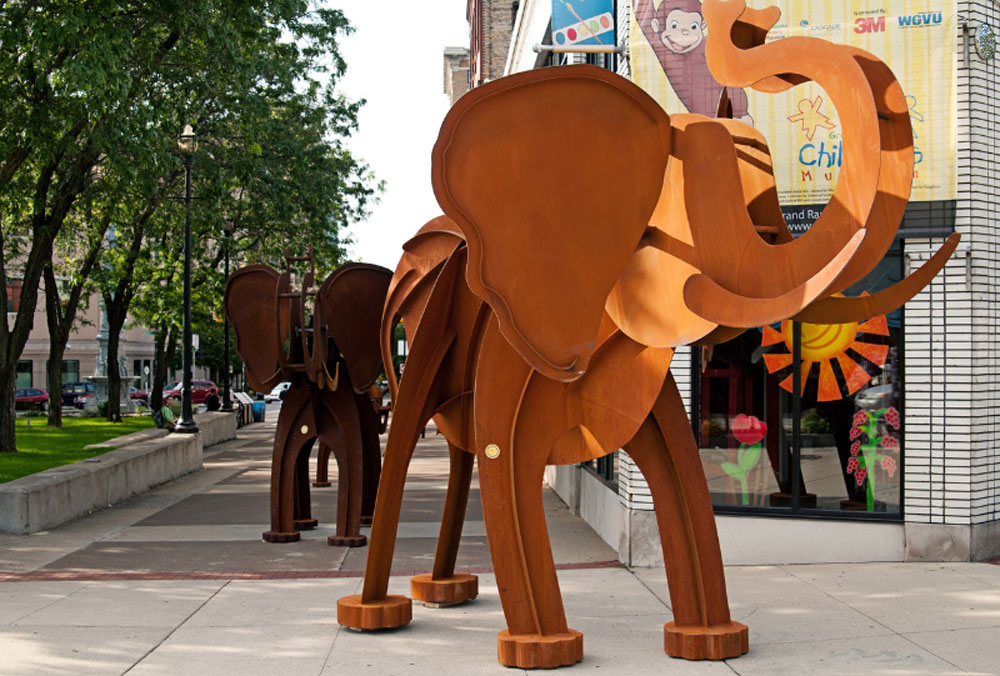 Fourteen years after its founding, ArtPrize returns in 2023 under new leadership and renewed anticipation. The event has always embraced evolution, and that's no different this time around. But longtime visitors and participants can also expect a return of those elements that made ArtPrize a sensation from the start: public voting, big awards, and abundant spectacle.
With 950 artists and over 150 venues taking part, downtown Grand Rapids will again brim with creativity. From September 14 through October 1, artworks will fill shops, restaurants, and other local businesses, as well as popular large settings like the GRAM, DeVos Place, and various public spaces. ArtPrize has already conferred $200,000 in grants to numerous artists this year, with an additional $400,000 in awards up for grabs during the festival itself. Through their phones, visitors will vote for what they believe are the best entries. The top 25 vote-getters will be announced on September 22. And on the 29th at Rosa Parks Circle, the competition will culminate with the reveal of the $125,000 Public Vote Grand Prize winner. Second- and third-place entries will receive $50,000 and $25,000, respectively.
The tradition of art experts selecting winners also continues this year. Jurors will award $20,000 to first place and $5,000 to the runner-up in five separate categories: 2D, 3D, Installation, Time-Based, and Digital. And for the first time, ArtPrize is bestowing the Visibility Awards: $75,000 across five categories to artists from underrepresented communities and demographics for excellent work.
ArtPrize 2023 officially kicks off at Ah-Nab-Awen Park, which will host an Opening Celebration on September 14 from 5 to 9 p.m. This vibrant event is free and open to the public and will feature fireworks, food trucks, games, art installations, and a riotous performance by the renowned musical and visual spectacle, Squonk.
New this year are two major activations. The ArtPrize ClubHouse will serve as the central hub during the event's eighteen days and is located in the former UICA building at 2 Fulton St. West. The multilevel space will be home to numerous events and services, including engaging panel discussions, an Artist Lounge, and the Family Fun Education Counter, where ArtPrize partner Cultivate will provide resources for K–12 students and their parents/guardians. Meanwhile, the upper levels will transform into Club Seen, a gallery and flex space featuring a series of performances, events, and artworks.
A short ways across town, the space at 555 Monroe will completely transform into the ArtPrize Oasis, a temporary urban expanse along the Grand River that will offer guests a place to regroup and recharge. Designed by TBG Partners, this immersive space will feature games, relaxed seating, and art installations from noon to 8 p.m. daily. An Artist Oasis will serve as a welcoming enclave where artists can recharge and network, while the Oasis Studio will serve as a flex space for both private events and fun public activities.
Among the other exciting happenings this year is The ArtPrize Artisan Market, presented in tandem with Merchants and Makers on September 23 and 24. Over 170 vendors will comprise a massive outdoor marketplace spanning the Gillett Bridge and stretching through Ah-Nab-Awen Park. The Honda "Paint My Ride" event will take place during the opening weekend, showcasing talented students from Kendall College of Art and Design painting live on vehicles alongside Rosa Parks Circle. And on the evening of September 23, Calder Plaza will feature "The Silent Exchange," a silent disco and artistic showcase organized by City Hall Curator Grant recipient, Brandy Mayweather.
With the sheer number of things to do and see during the eighteen days of ArtPrize, the best way to stay on top of things is by following along on Instagram and Facebook and by checking out the full calendar on artprize.org.
Facebook Comments