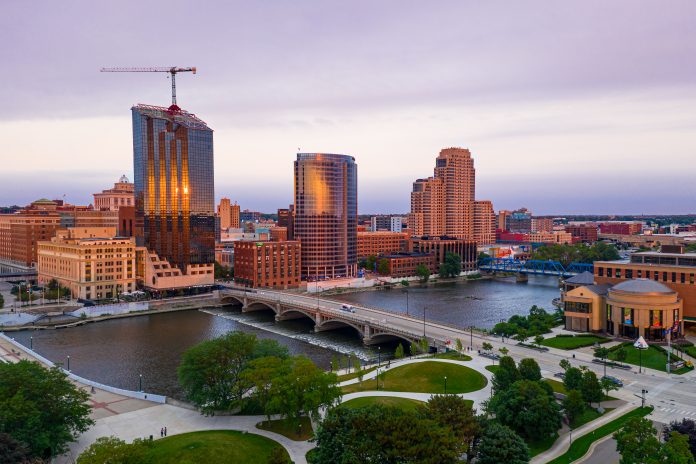 Grand Rapids' downtown district for years has had construction cranes in the air. In decades past, they've hovered over old City Hall, helped build Van Andel Arena and swung beams into place up and down the Grand River.
As the city's fortunes have ebbed and flowed, they've come and gone. Now, though, they're back all around the city center — at both ends of Medical Mile, near Spectrum Health's campus and along the riverside at the Amway Grand Plaza Hotel. At times, it can feel like a sudden surge of activity.
For anyone paying attention, though, it's hardly a surprise.
"I think for Grand Rapids, we're not in an unusual moment at all," said Andy Guy, chief outcomes officer with Downtown Grand Rapids Inc. (DGRI) — the local group that shepherds the downtown area's economy. He ticks off a years-long history of investment in the city. "We have been very fortunate as a community to constantly have cranes up in the air, even when turbulence happens in the nation."
That's good news for more than just the city center. For Guy and for other community leaders, building a strong downtown Grand Rapids is key to making the rest of the region successful. Conversations on the topic often find their way toward a "beating heart" metaphor, where downtown is the economic center of the community body — a reason tourists visit, a place for the community to relax and a place to do big business. A
strong downtown, the argument goes, is one of the most important markers of a
strong community.
"It means we can get folks that want to choose a place before they choose a field," said Steve Heacock, the former Kent County commissioner, now leading a project to restore the city's "namesake" rapids on the Grand River. "It means that we're more apt to keep knowledge workers that, in the past, moved away. We didn't have jobs for people with Ph.D.s like we do today."
And the cranes only represent the most recent years in a decade-long boom. The city of Grand Rapids has grown quickly during the 2010s — from about 188,000 people in 2010 to more than 201,000 in 2019, according to U.S. Census records, or by nearly 7 percent. During the same period, the state of Michigan grew only about 1 percent, to just under 10 million.
And during roughly the same period, the downtown area saw nearly $2.7 billion in investments — more than doubling the total made since 1980, according to figures from DGRI.
The result has been transformative.
A 'dying' city
It wasn't always this way. In fact, that kind of growth might be something of a pleasant surprise for the Grand Rapids of 2011. That year, the city made Newsweek.com's top-10 list of America's "dying cities," and grabbed national headlines with its response: a lipsynch video to Don McClean's "American Pie," featuring thousands of people — football players, a wedding party, cheerleaders — you get it. Cute, to be sure, and with a production value of about $40,000, an extremely well-heeled retort.
But it couldn't change the facts. City Journal reports that, between 2000 through 2009, Grand Rapids' demographics soured. The city lost nearly 5 percent of its population. The metro shed more than 12 percent of its jobs.
And despite the upbeat video, Newsweek's snub clearly stung. In a speech two years later, Mayor George Heartwell brought it up again at length, jeering at Newsweek for falling out of the print business and going entirely online.
"Remember when Newsweek magazine described Grand Rapids as a 'dying city?'" Heartwell asked. "For that matter, do you remember Newsweek, which can no longer be purchased at the newsstand or delivered in the mail?"
Grand Rapids' transformation since then matches a nationwide trend in city growth over the last decade — and a kind of nationwide, post-recession renaissance, with cities blooming to life as the country rebounded from the 2008 financial crisis. Six years ago, the Brookings
Institution noted that between 2010 and 2013, many of the largest American cities had gained more people in those three years than they had for the entire previous decade. Millennials, many of whom were coming of age as the country reoriented itself, flocked into
downtown urban centers, shifting the flavor and feel of entire cities.
"We definitely have seen an influx of younger folks moving in — and I think if you look at Grand Rapids' demographics, we are a young city overall," Guy said. He quickly adds, with a salesman's smoothness, that it's also a good place for retirees and business leaders, too. But he's right: the numbers show the city steadily getting younger. The U.S. Census puts 30.5% of Grand Rapids' 2018 population between the ages of 20 and 34. That's up nearly 3 percentage points from a decade ago.
A DGRI promotional video sums up some of the flashiest accomplishments in recent years. Electric boxes dotting downtown, now painted with colorful portraits of history's famous women. A rainbow road stretching along Sheldon Avenue. New office space soaring over Lyon Street.
That's a lot of numbers to make one simple point: Grand Rapids, like a lot of other cities, has gotten younger and denser over the last decade — and especially downtown, hipper and wealthier.
Costs and coronavirus

Of course, all that growth comes at a cost. The same Brookings Institution researcher who wrote excitedly about cities' booming growth returned in April to point out that, in recent years, much of American cities' growth has started to cool down or even slide backwards. There's increasing worry about expensive urban housing markets — in the Grand Rapids metro area, preliminary data from the National Association of Realtor Data showed the median sale price of a home growing from $177,500 to more than $210,000 between 2017 through 2019.
And the coronavirus, too, has been a difficult burden for local businesses, making it exceedingly hard to boost the foot traffic upon which so many downtown businesses depend. For many local businesses, times are hard. Numerous businesses have taken to relying on "social zones" to bring in customers. Those spaces, set up by DGRI, effectively turn street and sidewalk space into large outdoor cafés.
Other spaces have made adjustments to appeal to visitors. At the Grand Rapids Public Museum, for example, tickets now have to be purchased in advance; visitors have to wear face masks; and "germ killing ionization filters" have been installed in the museum's air system.
And it will undoubtedly be a long time before everything is back to normal. But Guy and other downtown experts argue that the future is still bright — that the city
is still well-positioned for what comes next.
"In the long term, we're very bullish on downtown Grand Rapids, West Michigan
and the state of Michigan in general," Guy said.
CURRENT PROJECTS
WhiteWater Restoration project
The WhiteWater Restoration project on the Grand River is one of the most ambitious projects in the downtown area in years. Led by nonprofit Grand Rapids WhiteWater, the project imagines the river with the namesake "rapids" reinstalled — hopefully, making the region a kayaking, rafting and even river-surfing Mecca.
Heacock — Grand Rapids WhiteWater president and CEO — said construction could begin as soon as next year, beginning a years-long process to install four sets of rapids on the Grand through the heart of downtown. Heacock is the ultimate evangelist for the project, which he said not only restores the roar of the river — what the earliest Indigenous settlers of the Grand Valley must have heard, he said — but also creates an economic draw across a huge swath of the Midwest.
Heacock frames it this way: if a Midwestern kayaker would have to head to the coasts or
to the Rocky Mountains to get these kinds of rapids, they'd probably be thrilled to drive just
a few hours to Grand Rapids.
Once the rapids are installed, construction enters another phase, installing a hydraulic
dam, and even invites the question of more development along the river's edge.
"The river project — first of all, it's huge, and its contribution and continuing of that
momentum just seems so obvious," Heacock said. "I think GR was on a great trajectory pre-COVID-19. I think this will help us come out of that and not only continue that trajectory but enhance it."
Downtown skate park
The Monroe North neighborhood — just past Interstate-196 — is getting a new,
temporary skate park, funded to the tune of $255,000 with construction that was
expected to begin in July.
The space, at 555 Monroe Ave. NW, was acquired by the city in the last several
years, and it's been used for community programming since (a DGRI memo lists off
"public art, seating, movies, silent discos and yoga"). Because construction for the
WhiteWater Restoration project is expected to need the space in coming years, it's
temporary — probably only about three years — but could be open as soon as this fall.
Medical Mile
"Medical Mile," as the hospital-heavy, downtown stretch of Michigan Street is known, has been getting longer for years — and it still is, with two big projects unfolding simultaneously on either end extending the health care industry's footprint in the growing downtown region.
Near the corner of Ottawa and Michigan, crews are busy building the Doug Meijer Medical Innovation Building, which broke ground on Nov. 18 last year. According to Michigan State University, the full project is a 205,000-square-foot space, expected to house the College of Human Medicine, Spectrum Health and BAMF Health once it opens.
Up the hill, near the intersection of Michigan Street and Prospect Avenue, Grand Valley State University's DeVos Center for Interprofessional Health is under construction, too. The five-story building is set to include 14 interactive laboratories and 15 classrooms, according to the university, and should be finished on time in May next year, despite delays caused by
the coronavirus pandemic.
Van Andel Arena project
Construction unfolded this summer in front of Van Andel Arena, where crews were at work remodeling the plaza in front of the downtown area's biggest venue. When the $2.1 million remodeling project began earlier this year, it was expected to finish before winter, adding new landscaping, trees, lighting and seating. It's principally funded by DGRI.
Has Heart Café
Navy veteran Michael Hyacinthe leads the Grand Rapids nonprofit Has Heart, a veteran artist collaborative aiming to open a coffee shop on the grounds of Veteran's Memorial
Park downtown. The group's animating spirit is bound up in veterans, art and bridging
the divide between ex-military and civilian culture, and it's greatly inspired by Daane
Deboer, the cousin of Hyacinthe's wife, who was killed in 2010 while serving with the
Marines in Afghanistan.
"We were hoping to unveil a big fundraising campaign during ArtPrize, and unfortunately
COVID hit, and yes, that has disrupted life as we know it for that particular project,"
Hyacinthe said. "However, that project is still moving forward, and we're hoping to start
construction, hopefully within the next several months. And … we're meeting with the city to discuss what construction looks like."
The group is still fundraising to meet a $250,000 goal, Hyacinthe said, and supporters can
help the group meet it at hasheart.us.
Amway Hotel remodeling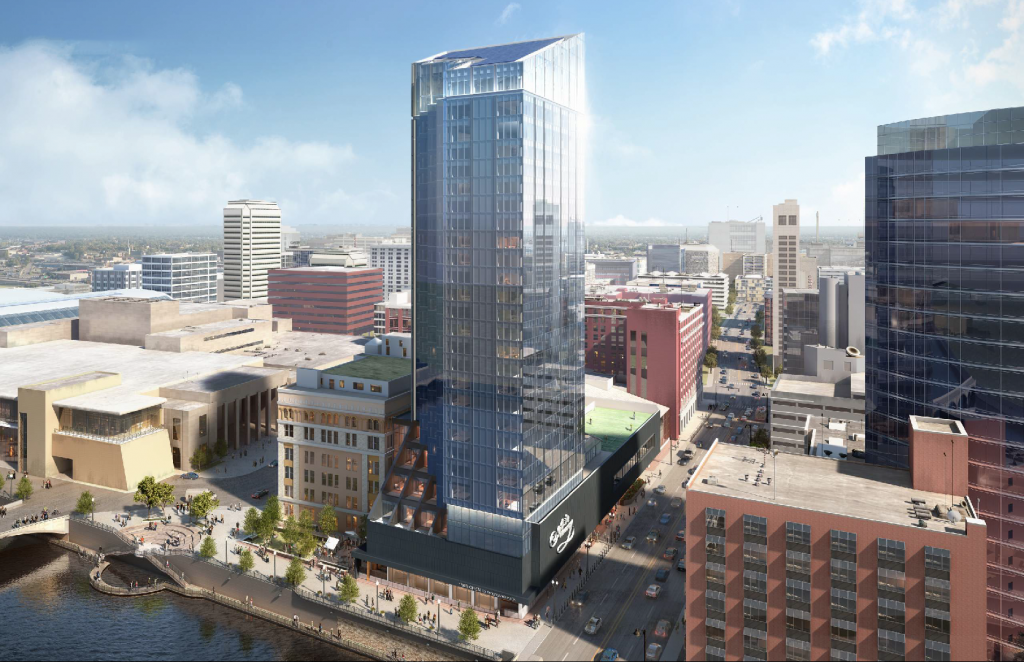 The Amway Grand Plaza launched a remodeling project in 2019 that's brought a high-altitude crane to the edge of the river — perched for a while on the roof of its signature tower. When it was launched, the $40 million project was expected to replace the glass around the outside of the building, subtly changing the look of the skyscraper and bringing floor-to-ceiling windows to rooms throughout the building.
Facebook Comments