I was wondering what type of exercise I could do to get myself bathing suit-ready for summer. So, I reached out to Joe Cebulski, owner of 8th Day Gym. His answer surprised me.
"At 8th Day Gym, we stress the importance of how you feel as you move through summer, not how you look moving through it," said Cebulski, who takes a holistic (mind, body, spirit) approach to training. His philosophy is that it's the satisfaction of being able to complete a movement – like a pull-up, for instance – not "how you look naked" that builds true confidence. For that reason, there are no "before" and "after" pictures taken at 8th Day Gym, no measuring of waistlines.
Cebulski's gym also has a "no headphones" policy. "It's a community, the way church was meant to be," Cebulski said. The gym's exercise classes offer community and bondedness. "So many tears have been shed when someone completes a movement that they couldn't before, like a wall push-up, and then ends up in a pile on the floor in tears surrounded by people celebrating that victory with them."
Cebulski grew up in Grand Rapids, and attended NorthPointe Christian, where he played every sport the school offered. There weren't enough students for a track team. No problem for Cebulski.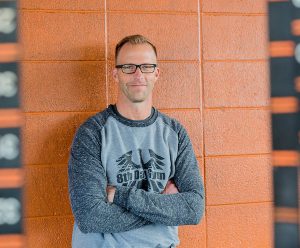 Baseball was his game.
He joined the team at Taylor University in Indiana. A lifelong goal was to make it to the pros. Unfortunately, despite his athletic abilities and eagerness to please, he and the coach, Larry Winterholter, just didn't see eye to eye.
"I don't know if it was because I had a ponytail," said Cebulski, straining to recollect what the problem may have been. "I was a good kid, but he was old-school."
Despite putting forth every effort to succeed on the ball field, on most days Cebulski was relegated to the role of benchwarmer. One fateful day during practice he wasn't even awarded that luxury. Winterholter gave him a bucket of paint and sent him out to centerfield to paint the fence. Unaware of what he'd done to be given such a task, he didn't push back, he set to work painting. When a line drive nearly beaned him in the back of the head, he decided he'd had enough abuse. (Not his words, but what else would you call it?)
Behind the baseball diamond, the Taylor University track and field team was practicing. Cebulski hopped the fence and decided to join them. The rest was history. Cebulski went on to become a track and field star and, after college, a two-time Olympic Decathlon qualifier.
When Cebulski moved back from California more than a decade ago, he had one mission in mind: to change fitness in Grand Rapids. The concept of functional fitness – a type of training designed to improve functional strength that aids in everyday movements – had been the norm in the fitness circles Cebulski inhabited. While working as a personal trainer at another gym, like the day he quit the baseball team, Cebulski made a bold move and told his dozen or so clients if they wanted to keep training with him, they would have start attending group classes. Thus, 8th Day Gym was born, where Cebulski continues to make history.
One day, well into his fitness career, redemption came for Cebulski when he got a call out of the blue from Coach Winterholter, who had since taken on an administrative role at the university. The news? Cebulski was to be inducted into the Taylor University Athletic Hall of Fame. Cebulski bears him no grudge and – referring to his 5,000-square foot functional fitness facility – smiles and says, "All of this came about because he made me paint the fence."
Facebook Comments