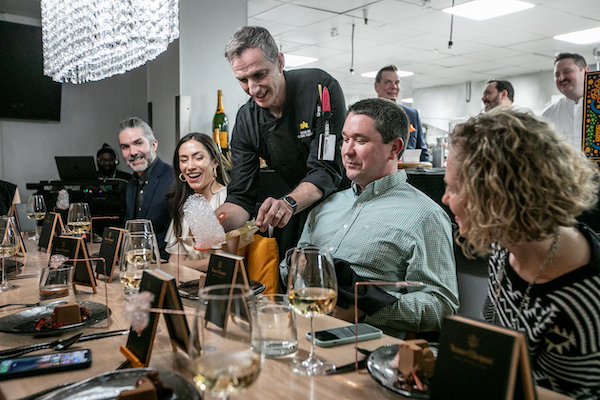 In full view of the bustling kitchen team at the Amway Grand Plaza, a one-of-a-kind dining experience that gives guests a behind-the-scenes look at a chef's table awaits. The upscale experience, aptly titled Bubbles & Beats, features a four-course French meal (with Japanese accents) while guests sample several varieties of Veuve Clicquot champagne, all while listening to expertly-curated musical pairings. 
"The idea was to create an experience where food, beverage, ambiance and music blend harmoniously, all in the middle of the organized chaos of a working kitchen," said a spokesperson for the company, who told us that this unique event was the brainchild of AHC's Adam Tanner, an avid champagne enthusiast. As both brands have a rich history and deep connection to luxury, Veuve Clicquot was a natural partner for the series and came on board to take Bubbles and Beats to the next level. 
This monthly event happens on "certain" Friday nights each month, 5:30-9:30 p.m. at the Amway Grand Plaza, Curio Collection by Hilton located at 187 Monroe Ave. NW, Grand Rapids. There are still openings available at the July 21 and August 25 seatings. Cost is $250 to attend. Book your reservation here. 
Facebook Comments