USA Today recently named the "Best Museum Exhibits in the U.S. This Winter" and the Grand Rapids Art Museum's (GRAM) exhibition of "The Great Lakes Cycle" by Alexis Rockman is among the exhibitions highlighted.
It is on view at the GRAM from Jan. 27 to April 29.
The exhibit "examines the forces – past, present and future – shaping the Great Lakes."
The project features all new work by Rockman and includes five mural-sized paintings; six large-scale watercolors; and a selection of monochrome field drawings based on his travel, interviews and extensive research in the Great Lakes region.
"Ecological history and natural history have often informed my work, so the Great Lakes are an especially fascinating place," said Rockman. "As I have worked on this project for the past five years, the environmental issues facing the Lakes have become even more critical.
"My expedition in the region, observations of the area and conversations with experts have helped me tell a story that is, I hope, a compelling call for action on behalf of this natural treasure."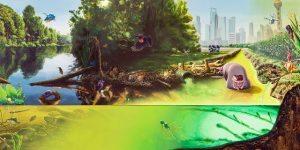 Rockman is a New York-based artist.
Since the mid-1980s, he has created a dramatic and distinct body of epic-scale paintings and works on paper. His work draws from his broad art historical knowledge and a passionate concern about the Earth's ecological future.
His work has been the subject of many international solo and group exhibitions, including a major retrospective organized at the Smithsonian American Art Museum in 2010.
His work is also included in public and private collections around the world, and he has held a number of teaching posts at prestigious institutions, such as Columbia University and Harvard University.
*Photo courtesy of GRAM
Facebook Comments