This past Sunday marked what would have been the 100th birthday of Betty Ford, the former first lady to President Gerald R. Ford. To celebrate this centennial anniversary, the Gerald R. Ford Presidential Museum is giving the community an in-depth look at her life and legacy in its newest exhibit, "In Step with Betty Ford."
Opening Tuesday, April 10 and running through Jan. 6, 2019, this unique exhibition gathers over 150 artifacts and documents from the Ford family, National Archives, Grand Rapids Public Library, and Grand Rapids Public Museum. Because many of the materials arrived after Betty Ford's passing, this centennial year provides Grand Rapidians with the chance to view never-before-seen items from her life.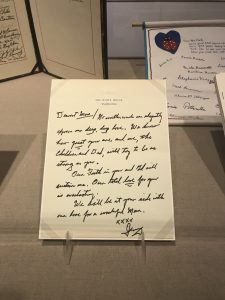 Although Ford never imagined she would become the first lady of the United States, her career path and upbringing prepared her for an astonishing journey to the White House. From the age of eight, Ford studied dance at the Calla Travis' School of Dancing in Grand Rapids and later at Bennington College under Martha Graham for two summers. "Dance was my happiness," she said, having hoped to become a professional dancer one day.
However, after making an agreement with her mother, Hortense Bloomer, Ford agreed to return to Grand Rapids and worked at Herpolsheimer's department store as the fashion coordinator. Even though she did not end up becoming a professional dancer, Ford always found ways to incorporate dance into her life, from teaching classes in Grand Rapids to bringing modern music and dance into the White House.
State dinners were one event where the Fords made a unique precedent. Unlike previous first couples, "the Fords often closed the party and danced into the wee hours of the morning," said Don Holloway, curator of the exhibition.
Even though Ford did not know it at the time, her dance training provided her with the strength and confidence to take on the role and leadership of first lady. Learning the discipline of dance gave Ford the ability and courage to open herself up in front of audiences, which is "a strength most first ladies did not have to draw upon" Holloway said.
Ford was also not a politically-focused individual, but rather, rooted in practicality. In addition to giving her husband practical advice during his presidency, she spoke honestly and candidly to the public about many subjects that were considered taboo at the time. As an advocate for women's rights, she was a prominent supporter of the Equal Rights Amendment. Her experiences with breast cancer opened the dialogue for public discussion on women's health, and her struggle with drug and alcohol addiction led to co-founding the Betty Ford Center to assist individuals looking to recover.
"As first lady, she never felt the constraints of politics when deciding to speak out about an issue and was not afraid to use her own life as an example. Our family is proud to share her legacy and hope this exhibit allows others to view her as a role model of character and integrity," said Susan Ford Bales, daughter of the Fords.
"In Step with Betty Ford" gives visitors the chance to see special artifacts such as pictures of her family, a signed yearbook, a glass case of foreign gifts she received, and the dress she wore for her controversial interview with "60 Minutes." Guiding you on a personal tour of her life, "the museum's curators and exhibit designers have put together a magnificent display of mother's life," said Ford Bales.
Because Ford was raised and shaped by the community in Grand Rapids, Holloway encourages Grand Rapidians to visit this exhibit to learn more about her incredible life, how Grand Rapids played an important part in her journey, and "find a greater appreciation" for all the work she did for this country.
Located at the Gerald R. Ford Presidential Museum, "In Step with Betty Ford" will be on display through January 6, 2019.
*Header photo courtesy of the Gerald R Ford Presidential Museum
Facebook Comments