Believe it or not, there are more celebrations going on in Grand Rapids on St. Patrick's Day than Irish on Ionia.
Yes, most are boozy events — and yes, most are decked in the green. However, if you're looking to avoid the craziness that is Irish on Ionia, then we have a few alternatives to help you celebrate all things Irish.
Brunch With The Brave at The B.O.B.
The B.O.B. has a tradition of hosting community or fundraiser events on St. Patrick's Day. In the past, its hosted events like Pets for Vets, and 2018 is no different. This year's event treats all first responders to Bobarino's wood-fired pizza buffet on the house, 11 a.m. – 1 p.m. Afterward, live music starts at 4 p.m., and DJs start spinning at 9 p.m. Look for signature Irish drinks (like Irish Car Bomb and Shamrocker) on special for $6 and their famous peanut butter porter for $4.
March 17, Starts at 11 a.m.
If you're looking for tasty food truck treats close to Irish on Ionia and the Pyramid Scheme, check out the Not so Irish Food Truck Rally on Commerce Ave., between Oakes and Cherry. Righteous Cuisine, Coffee Rescue — Food Truck and Blue Spoon Catering will be there, among others, to satisfy your appetite.
March 17, 7 a.m. – 11 p.m.
Head to the Monroe Mall for this annual parade organized by the Irish Cultural Committee and the Father John Whalen McGee Chapter of the Ancient Order of Hibernians (an Irish Catholic fraternal organization — yes, we had to Google it, too). This year's event will also feature a brewery parade float competition (because, Beer City), so get out there to support your favorite watering hole.
March 17, starts at 11 a.m.
Craft Beer Cellar Grand Rapids Anniversary Party
To commemorate one year in business, this beer bar is throwing a big beer party. Expect Irish beer (not green beer), specials on draft and $2 hot dogs. If you like free things, stop by for a complimentary tasting of Grand-Haven-based Grand Armory Brewing's offerings, 3 p.m. – 5 p.m.
March 17, noon – 11 p.m.
35th Annual Spectrum Health Irish Jig
What's the opposite of drinking yourself into a stupor? Running a 5K. If you prefer healthier activities (your body will thank you), lace up your running shoes and head to East Grand Rapids High School for the 35th annual Spectrum Health Irish Jig. The event aims to raise awareness and funds for colorectal cancer prevention and treatment.
March 17, expo opens at 7 a.m.
St. Patty's Day Celebration at Fifth Street Hall
St. Patrick's Day is one of the few occasions when St. Adalbert's Aid Society's Fifth Street Hall is open to the public. Before noon, it's serving up eggs and corned beef hash. At 4 p.m., don't miss the Grand Rapids District Pipe Band take the stage before diving into Rueben sandwiches at 5 p.m.
March 17, starts at 8 a.m.
St Patrick's Day at Flanagan's Irish Pub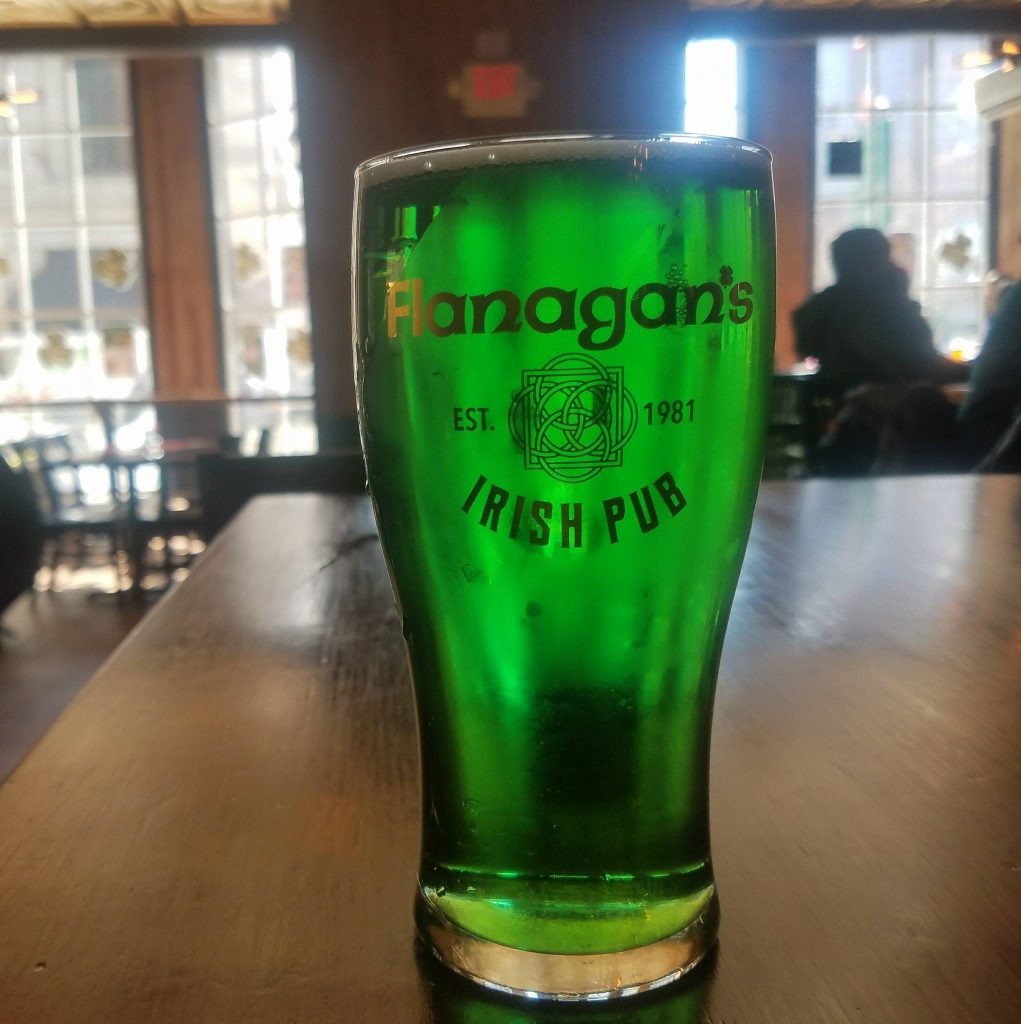 For Flanagan's Irish Pub, St. Patrick's Day is like the Super Bowl. The party starts around sunrise, so get there early for the ceremonial "pouring of the first Guinness" along with a hearty Irish breakfast. If you're not an early bird, stop by at 5:30 for lively Irish music brought to you by Peat in the Creel.
March 17, starts at 7 a.m.
*Main photo courtesy of Flanagan's Irish Pub
Facebook Comments